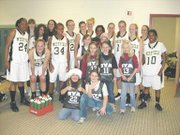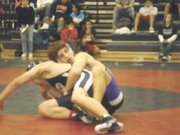 <b>SYA Girls Visit Bulldog Locker Room</b>
The Southwestern Youth Association (SYA) Mustangs, a third grade girls basketball team, attended the Westfield girls varsity game against Gar-Field on Monday, Dec. 22.
The team was introduced by the game announcer, treated to a great win and became regular visitors at the concession stand.
After Westfield's 59-34 victory, Bulldogs coach Pat Deegan invited the Mustangs to visit the locker room for a postgame talk.
When asked what she thought of the experience, Kelly Mackmin, a third grader at Virginia Run, replied, "It was awesome."
<b>Searching for Players</b>
The U-10 Chantilly Youth Association Freedom is looking for a few good players who want to take their game to the next level. Does your daughter (born between Aug. 1998 and July 1999) like to have fun? Are her soccer skills better than average? If so, bring her out to CYA's January training sessions on Jan. 11 and Jan. 18 from 11 a.m. until noon at EDS Fields, located at the corner of Centreville and Wall Roads in Herndon. Contact Eric Steffen at esteffen@verizon.net.
<b>Searching for Players</b>
The Chantilly Youth Association (CYA) Scorpions, a boys U-11 Division 2 NCSL team, is looking for talented and motivated players born after July 31, 1997 who are serious about playing competitive travel soccer. This is a team of boys who love soccer and have been very successful over their first seven seasons with five tournament premier-level championships and an indoor championship. The team offers a year round training program in a competitive, educational and fun environment. The Scorpions are professionally coached and trained by Adam Baumgardner of Soccer Performance International (SPI). Contact coach Baumgardner at cyascorpions@yahoo.com or visit the team's Web site at www.thesoccersite.biz/cyascorpions for tryout information.
<b>Tenaglia Hits Century Mark</b>
Lloyd Tenaglia, a senior at Chantilly High School, earned his 100th win as a varsity wrestler at the Raider Holiday Classic held at JEB Stuart High School on Dec. 20. He won his 125-pound weight class and received the Most Outstanding Wrestler award for his performance at the tournament. When the Chargers traveled to Reading, Pa. to the Governor Mifflin Holiday tournament nine days later, Tenaglia again won his weight class and the Most Outstanding Wrestler award. The Chargers placed sixth overall at the tournament out of 19 schools.
<b>Holiday Tournaments a Success</b>
Both Westfield basketball teams reached the finals of the 2008 Bulldog Bash with the boys team pulling off a 54-49 win over Woodbridge. The title was the team's third straight. On the girls side, Westfield (7-5, 1-1 Concorde) suffered a 64-50 loss to Erie McDowell of Pennsylvania.
Chris Kearney was named the boys tournament's Most Valuable Player, while Shelby Romine was named the girls tournament's Outstanding Player. Jessica Andre also made the girls all-tournament team.
At 10-1 overall, 2-0 in Concorde District play, the Westfield boys team will host Centreville Thursday night for a 7:30 p.m. tip. The girls teams will clash at Centreville with a 7:30 p.m. tip time as well.
The Centreville boys team, now 4-7 overall, 1-2 in Concorde play, also competed in the Bulldog Bash, with the boys team finishing sixth behind Warren Denny, who made the all-tournament team.
Meanwhile, the Centreville girls (7-4, 1-2 Concorde) scored wins over Broadneck and South River to win the South River Shootout. Erin Meador was named the tournament's Most Valuable Player and Kate Vennergrund and Alysha Watson were named to the all-tournament team.