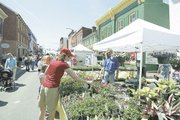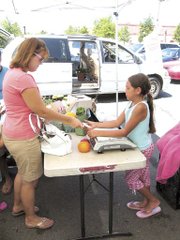 Throughout the month of January, The Connection will be highlighting 101 ways residents can have fun in and around their community. Mike DiCicco, Justin Fanizzi, Jennifer Lesinski and Rich Sanders worked on this project. This is part two of four.
<ro> Be a Buddy
<lst> Reading Buddy Volunteers
Ashburn Library
43316 Hay Road
Ashburn, VA 20147
703-737-8100
www.library.loudoun.gov
<bt> This great volunteer opportunity requires a person to commit an hour of time, every Monday from 4:30-5:30 p.m., for a two-month session. Encourage a child's love of books by pairing him or her with a teen reading buddy for one-on-one reading time. Recommended ages for volunteers: 12-18.
<ro> Strengthen Relationships
<lst> Mom & Me Book Club
Sterling Library
120 Enterprise St.
Sterling, VA 20164
703-430-9500
www.library.loudoun.gov
<bt> The monthly Mom & Me Book Club is a special opportunity to read books and engage in conversation. Recommended for daughters ages 9-12 and their mothers or mentors. Call to register and for titles.
<ro> Go Cosmic
<lst> Bowl America Dranesville
46940 Woodson Drive
Sterling, VA 20164
703-430-1350
www.bowl-america.com
<bt> Every Friday and Saturday, from 11 p.m.-2 a.m., the lights go out, the music goes up and a party atmosphere takes over the bowling alley for cosmic bowling. The nightclub-like, family-friendly evening features pulsing lights and glow in the dark bowling balls. Cost is $5.75 per person per game.
<ro> Fresh Off the Farm
<lst> Loudoun Valley Homegrown Markets Association
P.O. Box 716
Hamilton VA 20159
540-454-8089, info@loudounfarmersmarkets.org
www.loudounfarmersmarkets.org
<bt> The six summer farmers markets take place May through October, throughout the county along with a winter farmers market, November through April, in Leesburg. Each provides and guarantees fresh produce and every market offers different events. Visit the Web site for locations, times and special events.
<ro> Indulge Your Sweet Tooth
<lst> West Belmont Place at National Conference Center
18980 Upper Belmont Place
Leesburg, VA 20175
703-777-9622
http://www.chocolatesgalore.org
<bt> The annual Chocolates Galore and More fund-raiser for the YMCA Loudoun County, taking place Feb. 20, offers a room filled with the most spectacular chocolate, dessert and hors d'oeuvre creations for participants' sampling pleasure. Attendees will vote for Best Taste and Best Presentation in both the dessert and hors d'oeuvre categories at the end of the evening. The event also features a silent and live auction, dancing and champagne. Proceeds benefit the YMCA Loudoun County's Building Bridges Program, which provides essential support to area families in need. Ticket Price: $60 per person advance purchase, $65 per person at the door.
<ro> 'Tease Your Way to Fitness
<lst> DivaFit
20604 Gordon Park Square
Suite 110
Ashburn, VA 20147
703-724-1134, Info@DivaFitOnline.com
www.divafitonline.com
<bt> Founded by Lisa Peklo in September 2006, DivaFit offers women of all ages and fitness levels a different way of exercising: the art of pole dancing for fun and fitness. The studio has 10 instructors, two dance rooms with a total of 24 poles and six levels of pole classes. Introduction classes begin at $20.
<ro> Get Pampered
<lst> Lansdowne Resort
44050 Woodridge Parkway,
Lansdowne, VA 20176
703-729-8400
www.lansdowneresort.com
<bt> The AAA Four Diamond Award-winning Lansdowne Resort features 296 guest rooms and suites, three restaurants that are open to the public, a private golf facility open to members and hotel guests, Spa Minérale and a year-round calendar of events ranging from holiday brunches to weekly jazz concerts. Visit the Web site for prices and packages.
<ro> Go Irish
<lst> Ned Devines Irish Village
21800 Town Center Plaza
Sterling, VA 20164
703-444-7873, sterlingquestions@nedevines.com
www.irishvillage.neddevines.com
<bt> Always wanted to visit Ireland, but could never afford it? Ned's allows diners to feel like they are at least eating in the Emerald Isle. The walls of the restaurant consist of "storefronts" from an Irish village and the menu features traditional dishes such as lamb stew, shepherds pie, Guinness beef stew, bangers and mash and of course, corned beef and cabbage. On weekends, Ned's becomes a nightclub with live entertainment and features a martini bar. See the Web for entertainment details.
<ro> Get Moving
<lst> Zumba Fitness
Creative Dance Center
44710 Cape Court
Suite 126
Ashburn, VA 20147
703-724-4900, Margaret@cdcdance.com
www.cdcdance.com
<bt> Creative Dance Center offers adult Zumba Fitness classes for anyone 18 and older. Zumba Fitness is a fusion of traditional cumbia, salsa, samba and meringue music combined with Latin rhythms and international dance moves.
<ro> Let Imagination Take Flight
<lst> National Air and Space Museum
Steven F. Udvar-Hazy Center
14390 Air & Space Museum Parkway
Chantilly, VA 20151
202-633-1000, NASM-VisitorServices@si.edu
www.nasm.si.edu/UdvarHazy
<bt> Located minutes from Washington Dulles International Airport, the Steven F. Udvar-Hazy Center opened in December 2003 and is the companion facility to the Smithsonian Institution's museum on the National Mall in Washington, D.C.
Among the planes on display are Lockheed SR-71 Blackbird, the fastest jet in the world; the Boeing Dash 80, the prototype of the 707; the Boeing B-29 Superfortress Enola Gay; and the deHavilland Chipmunk aerobatics airplane. The centerpiece of the museum's space hangar is the space shuttle Enterprise.
The center also offers an IMAX Theater, flight simulators, food service, a museum store, free tours, daily educational programs and school group tours and activities.
The center is open daily, from 10 a.m.-5:30 p.m. Admission is free, however, it is $12 to park with annual parking passes available.
<ro> Unleash Your Inner Muse
<lst> Loudoun Academy of the Arts/Gallery 222
222 South King St.
Leesburg, VA 20177
703-777-5498
www.gallery222.com or www.loudounacademy.org
<bt> Feeling artistic? Visit Gallery 222, home to the area's leading artists. The gallery houses a variety of mediums including watercolor, drawings, photography, calligraphy and sculptures. Feeling really artistic? Take an art class at Loudoun Academy of the Arts, a school of fine arts instruction for artists of all ages and skill levels. The school offers classes like oil painting, pastels, glass and ceramics, and all classes are taught by professional artists. Visit the academy Web site for class offerings and pricings; visit the gallery Web site for information on the ever-changing exhibits and hours.
<ro> Provide Creatures Comfort
<lst> Loudoun County Animal Shelter
39820 Charles Town Pike
Waterford, VA 20197
703-777-0406, animals@loudoun.gov
www.loudoun.gov/animals
<bt> The Loudoun County Animal Shelter is located on a 13-acre parcel of land, five miles west of Leesburg. The shelter offers a number of services including pet adoption, assistance with lost pets, information on disaster preparedness for pets and in conjunction with Animal Control, C.A.R.E. (Companion Animal Resource Effort) and wildlife issues. The shelter also provides tours and volunteer opportunities.
<ro> Catch the Buzz
<lst> Loudoun Beekeepers Association
www.loudounbee.org
<bt> Based in Leesburg, the Loudoun Beekeepers Association offers classes on beekeeping, as well as various member and nonmember functions including guest speakers and open houses.
<ro> Learn from a Master
<lst> Master Gardeners' Demonstration Garden
60 Ida Lee Drive
Leesburg, VA 20175
703-771-5150, ex107mg@mail.vt.edu
www.loudouncountymastergardeners.org
<bt> The Master Gardener class of 1992 first developed the Demonstration Garden. The goal was to create a practical organic garden for growing vegetables and fruit where the public could visit and learn about chemical-free gardening. The garden has grown considerably since then in size and scope. The garden is divided into a variety of areas including a children's garden, vegetables, butterfly and perennial garden, wedding garden and more. The garden is never closed; feel free to visit anytime. However, on Tuesday or Thursday mornings, from 9 a.m.-noon, Master Gardeners will be there to answer questions.
<ro> Kick Off the Weekend
<lst> Leesburg's First Friday
Loudoun Arts Council
King, Loudoun and Market streets
Leesburg, VA 20176
703-777-7838, info@loudounarts.org
www.leesburgfirstfriday.com
<bt> Held the first Friday of every month except January, from 6-9 p.m., more than 35 specialty shops, art galleries, antique shops and restaurants in downtown historic Leesburg offer live entertainment, free refreshments and/or special sales. Visit the Web site for details on that month's activities and entertainment.
<ro> Stroll through History
<lst> Town of Middleburg
10 West Marshall St.
Middleburg, VA 20118
540-687-5152
www.middleburg.org
<bt> Browse among the array of quaint shops and inns. There are approximately 600 people residing in the town. Established in 1787 by Revolutionary War Lt. Col. and Virginia statesman, Levin Powell, he purchased the land for Middleburg at $2.50 an acre from Joseph Chinn, first cousin to George Washington. Previously called "Chinn's Crossroads," Powell chose the name Middleburg because of the town's location midway between Alexandria and Winchester on the Ashby Gap trading route (now Route 50). There are several inns located within the corporate limits, including the historic Red Fox Inn and Tavern, which is billed as the "oldest original inn in America." The village has earned a reputation as the "Nation's Horse and Hunt Capital," and is home to the National Sporting Library. Middleburg was recognized for its historic preservation efforts by being designated a Preserve America Community by First Lady Laura Bush.
<ro> See the Sights
<lst> Rust Sanctuary
802 Children's Center Road
Leesburg, VA 20175
703-669-0000
www.audubonnaturalist.org
<bt> Rust Sanctuary is an Audubon Naturalist Society sanctuary. The property includes a manor house and 68 acres of land budding with nature trails and picnic tables. In total, the sanctuary protects six kinds of habitats, including wildlife gardens, meadows, hedge rows, mixed hardwood forest, pine plantation and a pond. The sanctuary offers a variety of activities including free nature walks, seasonal discussions and walks and family programs. Open dawn to dusk, seven days a week with free admission.
<ro> For the Young
<lst> Loudoun Youth Fest
215 Deport Court
Leesburg, VA 20175
lyi@loudoun.gov
www.loudounteens.org
<bt> Loudoun Youth Fest is planned by teenagers, for teenagers. Designed as a fun way to get important information out teenagers about issues from drunk driving to safe sex to education, this youth festival does it all. This year's event included performances nationally known band, Senses Fail, as well as the county's top teen bands. Attractions include giant inflatables, rock climbing, Rock Band and Dance, Dance Revolution competitions and a sports zone. An exhibitor's showcase highlights services and programs for teens.
<ro> Become a Green Thumb
<lst> Leesburg Flower and Garden Festival
Downtown Leesburg
703-777-1368
www.idalee.org
<bt> Historic Leesburg will be in full bloom as lush landscapes and gorgeous gardens fill the streets. More than 100 vendors will be on display April 18, from 10 a.m.-6 p.m., and April 19, 10 a.m.-5 p.m., featuring landscape designs, gardening supplies, outdoor living items, plants, flowers, herbs and more. A variety of food, music, children's entertainment and crafts will also be on hand for this annual event. Visit the Web site for the cost.
<ro> Get Rural
<lst> Loudoun Farm Tours
Department of Economic Development
1 Harrison St., fifth floor
P.O. Box 7000
Leesburg, VA 20177
703-777-0426
www.loudounfarms.org
<bt> Twice a year, Loudoun County farmers open their farms to the public to give residents a taste of the rural life. Every year, the Spring Farm Tour is held the third weekend in May and the Loudoun Farm Color Tour is held the third weekend in October. Residents can visit local vegetable and fruit farms to learn how to care for their own plants or maybe buy something for their home. At horse and animal farms, visitors have a chance to learn about the animals and meet the newest arrivals. The local vineyards offer tours and tasting for people to enjoy. Visit the Web site for a list of participating farms.
<ro> Celebrate the Celtic
<lst> Potomac Celtic Festival
The Potomac Celtic Alliance
525-K East Market St., No. 295
Leesburg, VA 20176
1-866-771-7786, information@pcfest.org
www.potomaccelticfest.org
<bt> This summer festival — held June 13 and 14 at Morven Park — features continuous live ethnic music and dance on multiple stages, a craft market, Celtic living history demonstrations, import and specialty vendors, Scottish games, pipe bands, poetry readings and storytelling, authentic Celtic foods, language workshops and much more. See the Web for a complete list of vendors, the entertainment schedule and ticket information.
<ro> Experience Country Living
<lst> Lucketts Fair
42361 Lucketts Road
Leesburg, VA 20176
703-771-5281
www.luckettsfair.com
<bt> The annual Lucketts Fair, which runs late August, is billed as a weekend in the country jam-packed with bluegrass music, crafts, antiques, cloggers, a farmyard zoo, hay rides, cakewalks, down-home food and old-fashioned fun for the whole family.
The fair first began in 1972, when the inhabitants of the small village of Lucketts first began putting on an annual fair at the Old Lucketts School — a building erected in the early 1900s. Visit the Web site for ticket information.
<ro> Now in Session
<lst> Court and Market Days
King, Loudoun and Market streets
Leesburg, VA 20165
703-777-1368
www.idalee.org/parks/events
<bt> Go back in time when the Circuit Court of Leesburg was only in session once a year, creating a festival-like atmosphere. The annual event includes artisan demonstrations, traders and peddlers selling their wares, re-enactments of court cases from 1750-1825, period entertainment and hands-on children's activities. Free.
<ro> Celebrate the Dog Days
<lst> Barktoberfest
Melodee Music Center
46077 Lake Center Plaza
Sterling, VA 20165
703-450-4667
www.barktoberfest.org
<bt> Each fall, Melodee Music Center goes to the dogs and cats, with a "music and pet lover's festival" benefitting Friends of Homeless Animals. The fun-filled day includes pets for adoption, music, games for pets and their humans, food, animal-related vendors, silent auction and prizes. Canines and kitties are welcome to participate in the fun. The event is free to attend, but donations are accepted. The 2008 event featured nine bands performing on three stages. Friends of Homeless Animals is a nonprofit, no-kill animal rescue organization serving the Washington, D.C.-metropolitan area.
<ro> Prost
<lst> Lovettsville Octoberfest
Lovettsville Community Center
57 E. Broad Way
Lovettsville, VA 20180
540-882-5788
www.townoflovettsville.com
<bt> Celebrate a German tradition with Lovettsville's annual Octoberfest, Sept. 26-28, from 10 a.m.-5 p.m. each day. The three-day event celebrates the town's heritage; German immigrants settled Lovettsville in the 1730s. The festival includes authentic German cuisine, live music, street performers, local art and more. Admission is free.
<ro> Ring In the New Year
<lst> First Night Leesburg
Bluemont Concert Series
Downtown Leesburg
540-338-4640, info@bluemont.org
www.bluemont.org
Bluemont Concert Series organizes First Night Leesburg, New Year's Eve, from 6 p.m.-midnight, which features more than 100 performances at 20 indoor locations in downtown Leesburg. Enjoy jazz, classical music, puppet shows, bluegrass, folk music, rock and roll, magicians and more. A list of performers will be posted on the Web site by mid-December. First Night concludes at midnight with a traditional Grand Illumination gathering on the courthouse green. Cost for the 2007/08 event was $10 per adult, $8 for seniors over 65 and $3.00 for children 3-12. No charge for children under 3 years of age.