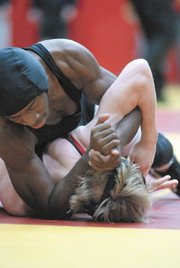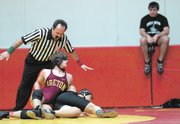 They may not share the same conference, but no matter what sport, the rare occasions all four Alexandria high schools getting together always seem to have significant meaning.
That was no different last Friday when all four wrestling teams from area high schools came together at Bishop Ireton for what has become an annual clash between rivals.
In past seasons, the meet, which is typically held in the second week of January, only included Episcopal, St. Stephen's/St. Agnes, and Ireton. This year, T.C. Williams joined the fray to make the event a true determinant of who has the best grapplers in Alexandria.
"The guys always look forward to this meet, and adding T.C. makes it a little more special to see where we stand in the city," said St. Stephen's/St. Agnes coach Joe Shabelski.
<b>EPISCOPAL TOOK HOME</b> bragging rights on the mat, easily defeating the competition in all three of its dual meets. The Maroon's smallest margin of victory came in a 50-19 win over Ireton. Episcopal also defeated fellow IAC foe St. Stephen's/St. Agnes, 58-12, and dominated a depleted T.C. Williams squad, 72-7.
Quinn Caslow (112), Hunter Fairchild (130), Smith Marks (145), Beau Perona (160), Ed Pritchard (171), Hill Du Bose (189), and Alex Henry (heavyweight) all finished 3-0 for Episcopal, who also went 2-1 in a quad meet Saturday, earning victories over Woodberry Forest (43-28) and Norfolk Academy (48-27).
"What pleased me was every single kid I had scored team points over the weekend," said coach Steve Castle, whose team now has an 8-2 dual meet record. "Winning the Alexandria meet meant a lot of them."
T.C. Williams had a tougher go of things, going 0-3 against the rest of Alexandria, but according to coach Jason Perkins, it wasn't a fair indicator of how talented the Titans are on the mat. Perkins said several of his wrestlers did not compete in the meet due to disciplinary reasons, which meant the Titans had to forfeit eight of the 14 weight classes as a result.
Titan sophomore Marvin Gomez seemed to have no trouble with the adverse situation, upping his personal record to 21-6 for the season, defeating all three wrestlers he faced.
"I try to think just about me winning every time," said Gomez on how he copes with a lopsided team score. "I work so hard during the offseason that you just don't think about anything but your match."
No doubt, though, it was a tough predicament for wrestlers like 125-pounder Bryan Edwards, who despite an impressive 10-3 victory over Ireton's Andrew Georgieff and a pin against St. Stephen's/St. Agnes, had no team win to show for it.
The silver lining for Perkins is that Edwards served as an example for the rest of his team that wasn't allowed to wrestle.
"Bryan is one of the guys who was missing earlier in the season and he's now on the mat," said Perkins. "He's doing real well, he's a lot more focused now."
<b>THE MOST EXCITING</b> match of the day was between St. Stephen's/St. Agnes and Ireton, with the Cardinals up five points heading into the last bout. The Saints' Henry Knotts defeated Ireton's Darcy Gomez by minor decision in the 112-pound weight class, but it wasn't enough to close the final team deficit, leaving the match's final score at 36-34 in favor of Ireton.
"Never did a loss feel so good," said Ireton coach Don Dight, whose team finished 2-1 on the day, also defeating T.C. Williams, 69-8. Elliot Mondragon (103 pounds) went undefeated for the Cardinals. St. Stephen's/St. Agnes finished with a dual meet record of 1-2 led by Tyler Haley (119 pounds) and Everett Epstein (215).
In the aftermath of the day's event, all anyone wanted to talk about was how to make sure another year doesn't go by without a proper showcase for what the Alexandria wrestling scene has to offer.
"It was the first time we had done something like this and it seemed like every coach there was excited and talking about who was going to host next year," Dight said.