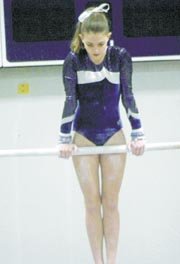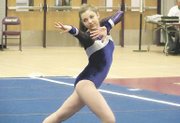 Facing a countywide budget crunch, girls gymnastics has come under scrutiny lately. Numbers are said to be dwindling and the sport appears to be less popular at the high school level.
That does not seem to be the case at Lake Braddock.
While the sport has appeared in all three levels of a proposed budget-tightening plan, the Bruins have seen their numbers increase. For the first time in recent memory, the team conducted tryouts for its varsity squad.
"We make sure to tell people how we did in gymnastics," said senior Emily Parillo. "We didn't think that people would listen, but this year people actually came out [for the team]."
At Lake Braddock, with nine Virginia AAA state titles and five straight from 1995-99, the Bruins have been relatively insulated from the lack of participation. The school has a strong gymnastics tradition, one that claims such stars as Christina Ghani and Justin Spring.
"People expect big things from us and we try to uphold that tradition," said Ellen Hagan-Bowerman, in her ninth year as he Bruins coach.
<b>THIS SEASON</b> Hagan-Bowerman has employed a different motivational tactic than some of her colleagues on basketball courts or wrestling mats. She's exhorted her Bruins to practice every day as if it's their last, budget shortfall be damned.
And it has worked.
At last Friday's six-team meet featuring Chantilly, Herndon, W.T. Woodson, Annandale and Falls Church, the Bruins (134.825) finished second — 9.6 points behind Chantilly (144.425).
Parillo led the charge, finishing fifth in the all-around competition with 35.250 points, while freshman Catlin Liberatore claimed 11th place with 33.350.
The Bruins won the Patriot District title last season and finished fifth in the Northern Region. Better yet, not a single senior graduated from that team. Parillo, a second-year captain, cited the team's closeness, which was developed last season, as a major reason for the early success.
"We're just really good at being a team and bonding," she said. "We all get along."
Lake Braddock won the Bobcat Classic at Battlefield High School on Dec. 13. There, Parillo took first in the all-around portion while freshman Caitlin Liberatore finished third.
Two days later, the Bruins scored another important win, besting Patriot District foes West Springfield, Lee and Annandale, as well as W.T. Woodson, Robinson and Falls Church. Again Parillo won the all-around title and Liberatore improved enough to finish second.
"It's a really intense team," said freshman Sarah Price, who finished 12th in the all-around competition in the Chantilly meet with 33.3 points. "We all become best friends throughout the season, and you can just trust everyone on the team."
<b>WHILE THE</b> district tournament doesn't start until Feb. 6 and the region tournament on Feb. 12, Lake Braddock had a little taste of the area's best on Friday night at Chantilly. With 38.950 points, Herndon's Maria Hayden took the all-around title, as was expected.
But Lake Braddock, despite having to wait more than 45 minutes for its final event — the balance beam — received strong performances from Parillo, Liberatore and Price. Mary Gnozzio (15th, 31.950) and Chelsea Stanger (22nd, 24.375) also helped the team's point total.
In the next few weeks, Lake Braddock has a quad meet with Centreville, Westfield and Annandale on Jan. 14 and another with Jefferson, Annandale Edison and West Springfield on Jan. 22.
If the Bruins are to make a run at a 10th state title or even the team's first region crown since 2006, it may come during the final season that Fairfax County recognizes gymnastics as a high school sport.
"We go every day like it's our last and do our very best," Hagan-Bowerman said. "Our goal this year is to make it as fun as possible, knowing that this might be it."
"Coach always reminds us that you practice how you perform," Parillo said. "So we're always in the mindset that we have to do well and this could be our last season, so we want to make sure that we got out with a bang."