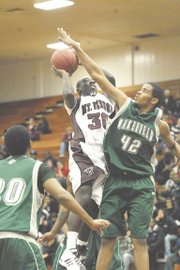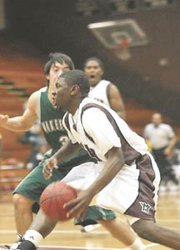 All too familiar with the tenuous egos of high school basketball players, Mount Vernon boy's coach Alfonso Smith is hesitant to call his plethora of quality guards a good problem. He knows it should be, but that would mean his emerging squad has reached a maturity level unbecoming of a group of 17- and 18-year-olds.
With four players that could start in just about any backcourt in the Northern region, Smith has an asset and an issue not many coaches in this area have to deal with. What makes it even more interesting is that Smith has a junior and a sophomore — Robert Smith and Jesse Konadu, respectively — starting over two seniors — Brian Green and Derek Pruitt.
"It gets difficult because they're all competitors," said Smith, whose team upped its record to 5-0 in the National District with wins over Wakefield and Stuart this past week and has won eight straight games after a 2-4 start to the season. The Majors take on Yorktown next Tuesday.
"They are all guys who can play and want to play, so it's a very difficult balance for us to find and it's not always easy. We struggle at times with that."
Perhaps the most talented of the bunch is the youngest, Konadu, who has shown a quick first step to the basket and the ability to knock down outside shots. He's also proven himself to more than a capable rebounder.
<b>SMITH ELEVATED</b> the 5-foot-9 Konadu to the varsity late last season after watching him dominate junior varsity competition, but has been shocked to see it translate so easily now that he's playing against foes a year and sometimes two years older. Konadu was the star of last Friday's matchup against Wakefield, scoring 25 points and grabbing 10 rebounds.
"He's matured a lot from last year to this year coming off of starting as a sophomore now," said Green, who lost out on a starting spot because of Konadu. "We put a lot on his plate, but I'm actually proud of him being so young and doing well."
The other starter, Robert Smith, of no relation to the coach, doesn't have the athleticism of his starting backcourt counterpart, but a deadly outside shot means teams pay for doubling star player Skylar Jones in the paint.
Then, there are the two veterans of the squad, Green and Pruitt, who have swallowed their pride and done what is best for the team, which means coming off the bench. Pruitt can score in bunches with his deceptive quickness going to the rim, while Green is just as capable a shooter as the younger Smith.
Green was named captain by his teammates and his willingness to take a step back for the betterment of the team hasn't gone unnoticed by his coach.
"That's some selflessness that I value and that makes our team better," Smith said of Green, who was the starting quarterback for the Majors' football team this fall. "As long as we are being a selfless team, we can be a great team. At times we don't do that."
It means Smith has gone with the who's hottest approach. Basically, whichever guards are playing the best stay in the game. For now it appears to be the smart move with Konadu leading the pack of guards in scoring (10.9 points per game), followed closely by Pruitt (9.1), Green (7.7), and Smith (5.1).
"It doesn't matter who really starts because if one of the starters isn't doing well, Derek or Brian can come in off the bench and do well," said Konadu. "It's just a good chemistry."
His coach hopes those words bear out over the course of the season. He knows better than to make any assumptions when it comes to teenagers and their playing time.
"I just hope the guys accept the fact that they've got some talented teammates and value that and value the goals we have as a team instead of the individual accolades that will come," said Smith.