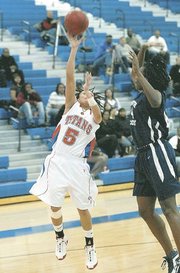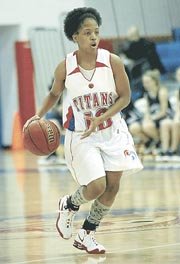 With arguably the best girl's basketball player in the region returning for her senior season, there were lofty goals for the T.C. Williams girl's basketball team and star player Tierra Ruffin-Pratt. But after two straight losses to start the season against better than advertised competition — Mount Vernon and Forest Park — it appeared as if the weight of those expectations might do in the Lady Titans.
But it turns out a trip to get away from those championship prospects was all the T.C. Williams girls needed to get back on track.
"When we went to the Myrtle Beach Tournament (over holiday break) we bonded a lot and that made us stronger and closer as a team," said Ruffin-Pratt after the Titans finished off South County Tuesday night, 43-36, for its third-consecutive pivotal Patriot District win.
Although the team finished with an average 2-2 record at the Crescent Bank Holiday Tournament in South Carolina, it seems as if these Titans found their groove while out of town. Since returning from that trip, T.C. Williams (8-4 overall, 4-0 Patriot) has dispatched Lee, West Springfield, and South County — the three teams that are expected to challenge the Titans as they go after a third-straight Patriot District title.
<b>TUESDAY NIGHT</b> against the Stallions (10-3, 4-2), a vastly improved team from a season ago, the Titans stormed out to an early 11-2 lead, but found themselves in a battle after being held to just three points during the second quarter. But led by Ruffin-Pratt (20 points, seven rebounds, and a ridiculous 11 steals) and senior Khalia Boston (12 points, four rebounds), T.C. grinded out the win down the stretch, holding South County to just four points in the fourth quarter.
"The key was keeping the switch on," said Boston. "We turned it off a little bit in the second quarter, but we picked it back up. For us, it's just a matter of keeping the intensity up."
The Titans' first-year coach, Cavanaugh Hagen, agrees. After watching her team put up a heroic effort against West Springfield, coming back from a 12-point deficit in a 46-43 win, Hagen was disappointed that her team forced some bad shots and wasn't as consistent against South County.
Still, with an unblemished district record following a stretch playing some of the toughest competition in the area, there's no denying the Lady Titans appear back on course after a rough go of things to start the year.
"They definitely had some lapses, but on any good team you have lapses and then fight back," said Hagen. "And if we keep taking steps forward, this can be a very good team."
T.C. Williams will look to continue its recent hot streak with games Thursday against West Potomac and Friday against Lake Braddock.