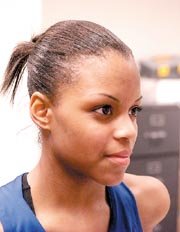 The South Lakes High girls basketball team had the right remedy for its first loss of the season last week — to come right back and get into the win column.
The Seahawks (9-1 overall, 3-1 Liberty District) experienced their first setback when they fell to visiting district opponent Langley, 60-39, last Tuesday, June 6. But they followed that up with a bounce-back district win over visiting Woodson, 54-42, last Friday. Then the following night, South Lakes won a district makeup game at Jefferson, 40-26. That game had originally been set for Dec. 19 before work improvements on Jefferson's home court resulted in the rescheduling.
Fourth-year South Lakes head coach Christy Winters Scott said her team played outstanding against Woodson.
"That was a special display of what South Lakes basketball is all about," Winters Scott said. "I had a pretty good idea of how we'd come out Friday night because we had some tough practices after the Langley game. It was a beautiful game. That was the best I've seen South Lakes play since I've been here."
The Seahawks received numerous contributions in the win over Woodson as junior guard Jasmine Jones (6 rebounds), senior guard/forward Kacey Liscomb and senior guard Kelcyn Manurs each had 11 points. Manurs also contributed nine rebounds and eight assists.
"She was threading the needle and making the right pass at the right time," Winter Scott said of Manurs' good distribution.
Other good games against Woodson came from senior forward Lachelle Wallace (10 points) and junior forward Natalie Kendall (8).
In the following night's win over Jefferson, Liscomb led South Lakes with 18 points.
"Playing back to back like that was definitely going to be a challenge after the game with Langley," Winters Scott said.
<b>IN THE LOSS</b> to Langley earlier last week, South Lakes fell behind early and could never get back in it. The Saxons led 29-14 at halftime before the Seahawks worked their way back to within nine points during the third quarter. But South Lakes could get no closer after that.
"We've had some slow starts in games [this season]," Winters Scott said. "I wasn't real concerned because we'd done that before and pushed through it. But I didn't have that same sense [against Langley]."
The Langley game was the first serious game action South Lakes had seen in some time. The Seahawks played and defeated district opponent Madison prior to Christmas on Dec. 16. Then, over the holidays, South Lakes competed at the Elite Holiday Tournament at Skyline High in Front Royal. But that tournament did not live up to expectations for the Seahawks as one of the teams in the four-team field was a late drop out. South Lakes easily handled Chancellor High (Fredericksburg), 61-28, in its first game in Front Royal on Dec. 29, but had no opponent to play in its next scheduled game the following day. Winters Scott was disappointed for her six seniors especially that the tournament did not prove to be as worthwhile as hoped.
"That was supposed to be our [special] trip for the seniors," Winters Scott said. "It was very frustrating."
So the Seahawks had not been recently tested when they took on Langley last week.
"I think the lack of games we had over the break really hurt us [against Langley]," said Winters Scott, who said her team did practice hard over the holidays. "Game pace is a different level then practice."
South Lakes had been allowing only 39 points per game prior to the Langley game. But the Seahawks struggled on the defensive end against the Saxons and were not as aggressive overall as usual.
"We were reacting instead of attacking," Winters Scott said. "Our mantra all season has been to attack on both [offense and defense]."
Manurs was the Seahawks' top scorer in the loss to the Saxons with 12 points. Wallace added seven.
South Lakes will have another chance against Langley when the two teams meet again on Jan. 30 in Great Falls.
South Lakes was scheduled to play district games this week at Marshall on Tuesday and at home against Stone Bridge this Friday night.