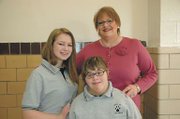 <b>Paul VI Community Helps Out</b>
Three women from Paul VI High School have been chosen from thousands of worldwide applicants to attend the Global Youth Activation Summit this February in Boise, Idaho.
The summit will take place during the 2009 Special Olympics World Winter Games. Attending will be junior Natalie Mills (athlete), junior Nicole Simon (peer mentor) and Mary Jo Gregory (teacher/chaperone). Fifty athletes and 50 mentors were chosen for this honor.
Started in 2001, the Fifth Global Youth Activation summit brings together young people with and without intellectual disabilities from around the world who are committed to making a difference in their schools and communities through the Special Olympics.
"What a wonderful experience this is going to be," Gregory said. "We will have the opportunity to share with the rest of the world that the partnership formed between students with and without intellectual disabilities has created acceptance, dignity, respect and friendships throughout our community at Paul VI."
Delegates will have the opportunity to interview participants in the Special Olympics World Games and then broadcast on a Global Webinar. To be part of the Webinar, contact mjgregory@paulvi.net.
<b>Stallion Setback at T.C. Williams</b>
Trailing T.C. Williams 34-32 after three quarters Tuesday night, the South County girls basketball team could only muster four points during the final 8 minutes, dropping a 43-36 decision to the Titans.
"I preach defense, and defense will always keep a game close," said first-year coach Chrissy Kelly, whose team fell to 10-3 overall, 3-2 in the Patriot District.
T.C. Williams opened the contest on an 11-2 run and closed the first quarter on top, 14-5. But South County held the Titans to only three second-quarter points and trailed 17-15 at the break.
"We settled down and we got back to what we work on 90 percent of the time," said Kelly, whose team will host West Springfield on Friday. "We just fell short."
South County was bolstered by a 14-point, 11-rebound effort from sophomore Simone Antwi, while junior Lauren Adams posted 10 points and seven boards. Junior Arianna Beard chipped in with six points and seven rebounds.
<b>Dale Makes Budget Proposal</b>
With little surprise or fanfare, Fairfax County schools superintendent Jack D. Dale last week made public his budget drafted for the fiscal year 2009-10, cutting funding for girls gymnastics but not indoor track and field.
Both sports had been under scrutiny since a proposal was unveiled back in November that featured three best-to-worst-case scenarios. Gymnastics appeared all three, indoor track and field only on the most severe.
"The logic remains the same," Dale said of the choice to cut gymnastics. According to both Dale and Fairfax County director of student activities Bill Curran, around 125 girls compete and the two cited the sport's availability at the club level as another reason for the measure.
One thing that hasn't remained the same is the school district's budget shortfall.
It was originally expected to be around $170 million, but if the Board of Supervisors denies a 3.5 percent funding increase that Dale asked for with his latest budget, the shortfall could trigger that most severe case in which indoor track and field is also cut.
"It is entirely dependent on what the Board of Supervisors gives us," Dale said. "If there is no additional money, we will face a $215 million shortfall."
<b>Jefferson Upsets Langley, W.T.Woodson</b>
The Thomas Jefferson boys basketball team scored a 48-42 upset victory at Langley on Friday, Jan. 9 and kept the momentum going by topping W.T. Woodson Tuesday night, 40-39. Springfield native Daniel Barnes was the Colonials' second-leading scorer against Langley with 10 points, while Woo Moon of Fairfax added seven. Barnes added six against the Cavaliers. Entering the fourth quarter Friday trailing by five, Langley pulled to within one at 36-35 with just over two minutes to go. But after a Jefferson field goal made it 38-35, the Colonials scored their final 10 points from the free throw line to ice the win. The Colonials are now 5-8, overall, 3-3 in Liberty District play. Jefferson will host Madison on Friday.
<b>Panthers Face Stiff Competition</b>
Despite strong efforts all around, the Paul VI wrestling team recently lost two close matches again regionally-ranked teams. Last week, the Panthers held a 27-23 lead over DeMatha going into the last match, but a DeMatha wrestler earned the pin and six team points for a 29-27 win. The Panthers also faced Woodberry Forest, one of Virginia's top wrestling programs. Again the Panthers led entering into the final match, 34-33, but Woodberry Forest secured three points for a 36-34 victory. In other action this season, the team has secured victories over McNamara (57-16), Norfolk Academy (48-24) and Episcopal (37-27).
<b>Panthers Tournament Tested</b>
On Saturday, Jan. 10, the Paul VI Special Olympics basketball team traveled to Ashburn to participate in the Loudoun County Basketball Invitational Tournament at Broad Run High School. Paul VI's first game ended in a 10-10 tie with the Davies Dominators. In the second game, the Panthers fought until the end but suffered a 14-4 loss to the George Mason Green Team. The Panthers won their third game, 5-2 over the Twisters, but suffered a loss in the final game of the day, a 16-14 decision to the Reston Lady Hawks. On Jan. 25, Paul VI will play in a tournament at Hoops Magic in Chantilly.
<b>Bruins Swimmers on the Move</b>
The Lake Braddock boys and girls swim and dive teams posted a series of state- and regional-qualifying times when they notched a pair of wins over Annandale last Friday. The boys won by a score of 161-154, while the girls earned a 192-122 win. Lake Braddock made seven regional and three state cuts during the meet. John McKenzie (200-yard freestyle), Tyler Ogren (200 individual medley), Christina McGarry (200 IM), Sarah Lynch (50 and 100 free) and Jordan Parry (100 fly) all made regional cuts, while Ogren and Alessandra Troncoso made states in the 100 breaststroke. Lynch, Ana Franzluebbers, Jordan Parry and sister Taylor Parry qualified for regionals in the 400 freestyle relay, while the 200 medley relay team, comprised of McGarry, Troncoso, Jordan Parry and Lynch, also qualified for states.
<b>WSLL Registration</b>
West Springfield Little League will conduct registration for its 2009 season on Saturday, Jan. 24, from 10 a.m.-2 p.m., at Washington Irving Middle School, which is located at 8100 Old Keene Mill Road in Springfield. WSLL's boundaries cover parts of West Springfield, Burke and Fairfax Station with the league open to all boys and girls ages 5-12.
<b>Softball Umpires Wanted</b>
Fairfax Adult Softball (FAS) is seeking umpires for its adult slowpitch softball leagues in Fairfax County. Pay starts at $23 per one-hour game and umpires are paid monthly. Experience is desired but training is provided. For more information, contact FAS at 703-815-9007 or e-mail at office@fairfaxadultsoftball.com.
<b>Fairfax Adult Softball Signup</b>
Fairfax Adult Softball (FAS) is currently accepting applications for adult softball teams. Men's, women's, co-ed, corporate co-ed, senior's (age 50+), and master's (age 35+) leagues are available. Applications are accessible via the FAS home page at www.fairfaxadultsoftball.com. For further information, please call 703-815-9007 or e-mail office@fairfaxadultsoftball.com. FAS is a non-profit corporation registered in the state of Virginia which administers the largest adult softball program in the state with nearly 10,000 participants.
<bh>Special Olympics Bowling Tournament</b>
Fairfax Adult Softball (FAS) will host the Ninth-Annual Benefit Bowling Tournament on Jan. 25 at the Bowl America Shirley in Alexandria. Proceeds from the tournament will assist Virginia Special Olympics Area 26 and FAS field improvements. Applications are being accepted through Jan. 16 and activities run from 1:30-4:30 p.m. on the day of the event. For the past 18 years, participants of FAS have contributed to local charities. Since the first bowling tournament in 1999, FAS and its participants have raised over $100,000.