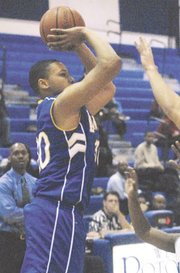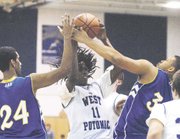 It's not a requirement, but most high school basketball teams shake the hand of an opposing coach following his or her introduction as a member of the starting lineup.
Others, such as the 2007-08 Virginia AAA state champion T.C. Williams Titans, have eschewed the individual acknowledgements, choosing instead to receive a team-wide
introduction.
On Tuesday night at West Potomac High School, the Lee boys basketball team picked the latter, forming a single-file line toward the Wolverine bench after each starter's name was announced.
Except the Lancers were one player short.
Senior center Frank Holloway Jr., who transferred from West Potomac to Lee this off-season, inexplicably remained near the Lancers' bench, appearing to stretch and ready himself for an important Patriot District showdown.
But if there's any bad blood between Holloway and his former team, nobody wants to talk about it.
"He's just a player. He plays for Lee. He doesn't play for us," said West Potomac coach David Houston III, following his team's 78-70 loss to the Lancers. "We played against Lee, that's all I know. I just coach the guys I got."
"I play every game the same," Holloway said. "I just came out trying to be patient."
<b>AFTER TRANSFERRING</b> from T.C. Williams to West Potomac following his freshman season, Holloway played two years with the Wolverines and Tuesday was his first trip back.
So what did he think?
"I just tried to execute plays," said Holloway, who finished with a game-high 25 points. "It was a big game for me personally, but it was a win, just like any other game … especially a district game."
In only a few months, Holloway has had a tremendous impact on the Lancers — more so than his words would allow. He has averaged around 25 points and 17 rebounds every night and nearly matched those marks against his former team.
The 6-foot-5, big-bodied center grabbed 11 rebounds, made seven of his 12 shots from the field and went 10 of 11 from the free throw line. He even added a pair of steals, one a coast-to-coast effort that pushed Lee's lead to 16 early in the second half.
"He gives us a great low-post presence that we haven't had," Lee coach Mike Harris said. With the win, the Lancers snapped a four-game losing streak and improved to 4-5 overall, 2-3 in the Patriot District.
"It's always an adjustment coming to a new school with a new situation," Harris said. "It can be a rough transition, but I think he's handled it real well."
"It just was a process that I had to go through," said Holloway, who was West Potomac's leading scorer last year at 15.4 points per game. "But now I'm here, and I'm happy to be here."
<b>THE LANCERS</b> needed this win. With recent losses to Hayfield, T.C. Williams, Chantilly and Lake Braddock, Harris and Co. hadn't been on the positive side of an outcome since topping South County by a score of 79-73 on Dec. 16.
Harris said the problems started four days prior to that South County win when an overtime loss to Wakefield saddled his team with a "hangover." Lee was without three starters due to foul trouble during the overtime period, and, consequently, struggled down the stretch.
Execution during the final moments Tuesday night again became a factor as West Potomac trimmed what once was a 17-point lead down to six (71-65) with 1 minute, 54 seconds remaining. The Wolverines started to attack with a full-court press and Lee coughed up the ball on three consecutive possessions.
"We didn't assert ourselves," said Harris, whose team will travel to Annandale on Friday. "I thought our spacing wasn't good, and they came after the ball really hard. We got a little rattled."
But out of a Lee timeout, junior Walter Griffin connected on a short jumper to push the lead back to eight with 1:20 left. Griffin, a 6-foot-5 forward with a soft shooting touch, finished with 15 points.
In addition to Griffin's efforts, Harris was pleased with the defensive work put forth by junior Fenan Woldu (15 points, two 3-pointers), who drew the unenviable assignment of guarding West Potomac's Martez Redfearn (10 points).
"It got kind of bumpy at the end, and we had to pull off a tough win," Griffin said. "It feels good to get that off our chest, and now we're trying to start a winning streak."