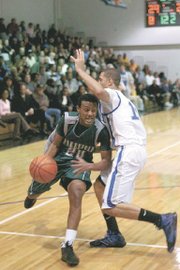 The Wakefield boy's basketball team improved to 11-4 overall and 3-2 in the National District this season, defeating Arlington rival Washington-Lee, 83-72, last Friday night. Warrior seniors Johnathan Ford and Corey Levenberry led all scorers with 26 and 20 points, respectively. W-L's Gavin Treweek finished with a team-high 19 points. W-L fell to 2-12 this year.
Meanwhile, the Yorktown boy's basketball team dropped its first National District game of the season, losing to Stuart, 64-51, last Friday night. The defeat snapped a four-game winning streak for the Patriots, who face Mount Vernon Wednesday night, after the Connection's press time.
The O'Connell boy's basketball team improved to 13-4 this year with a 37-36 win over Paul VI after junior Kendall Marshall made a game-winning layup as time expired.
In girl's action, Yorktown improved to 9-5 this year with a 63-42 win over Stuart, setting the stage for a pivotal match-up with 14-1 Mount Vernon this Wednesday night. Senior Shannon Briggs led the Patriots in scoring against the Raiders, netting 13 points.
The Washington-Lee girl's basketball team picked up its third win of the season, defeating Wakefield, 40-32, last Friday night. Generals junior Jennifer McCue led the charge with a team-high 11 points. Wakefield's Veronica Paz led all scorers with 12 points. After starting the season 1-9, W-L has now won two of its past four games.