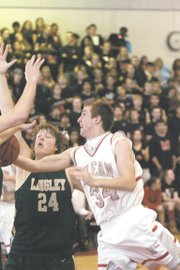 A few breaks here and there, and the McLean High boys basketball team could be a respectable .500 in the Liberty District. Instead, as the district season reached its midway point this week, the Highlanders stood at 1-5 in the district and 4-9 overall.
"We're a couple of bounces of being at 3-3 in the district," said McLean coach Kevin Roller, whose team lost a district home game to Marshall last Friday night, 59-41.
McLean's lone district win came at Jefferson, 57-42, Dec. 16. But two of the team's district losses were heart-breakers — a 50-47 home defeat to Langley in double overtime Dec. 19 and a 64-61 home loss to Stone Bridge last Tuesday, Jan. 13.
The Highlanders held a four-point lead with just over a minute remaining to play in the loss to the Bulldogs. McLean's leading scorer in the loss was junior forward Sean Fitzgerald (14 points).
Roller is optimistic that McLean, if it keeps working hard in practice and gains more consistency in games, can fare a lot better over the second half of the district schedule. The Highlanders were scheduled to wrap up the first round of district play Wednesday, Jan. 21, of this week at South Lakes. They will begin their second round of district competition this Friday night against arch rival Langley. That contest will take place on the Saxons' home court.
Roller wants his team to keep pressing on. The coach believes the Highlanders will get better and better as the season goes on just as they did last year when they went all the way to the district tournament finals.
"We've got to dig in and play teams a second time," Roller said of the latter half of the district schedule. "There won't be a whole lot of surprises. We need to find that consistency and put the last couple of pieces together. We have to make sure we continue to improve."
<b>MCLEAN PLAYED</b> a Marshall team last Friday night that had it all clicking. The Statesmen jumped off to a fast start. Meanwhile, McLean struggled from the field during the early stages, converting just two of its first 14 shots. But the Highlanders hung in there and trailed just 27-22 at the half.
In the second half, Marshall continually answered every McLean threat by hitting key baskets and coming up with the big plays. Marshall, in the loss, shot just 30 percent from the field. Roller credited Marshall's defense with playing well, but said the Highlanders also simply shot poorly.
"It was a combination of a bad shooting night and Marshall playing well," Roller said. "Marshall came out more aggressive [early] and found their rhythm. Every time we got close [in the second half] they made a big play. Marshall played a very good game."
Roller said his team was disappointed following last week's lost opportunity to beat Stone Bridge when the Highlanders had the Bulldogs on the ropes. But he said his team came back with a strong practice the following day. He does not believe the loss to Stone Bridge played into his team's poor outing three days later in the setback to the Statesmen.
What is hurting McLean, according to its coach, is a general lack of consistent play in games.
"We have not had a whole consistent game — game in and game out — that we need," he said. "We seem to always have a stretch during a game that hurts us."
<b>MCLEAN POINT</b> guard Peter Brosnan scored a team-high 13 points against Marshall and teammate Matt Baruch, also a senior guard, netted 10. Baruch is slowly getting stronger after having suffered an ankle injury during a holiday tournament.
Brosnan, who also scored 13 points in the loss to Stone Bridge, is putting together a solid season at the point for the Highlanders.
"I put a lot of responsibility on his shoulders," Roller said. "He's our point guard and everything goes through him. I think he's giving us very solid play at the point."
Of his team's overall defense, Roller said the Highlanders will continue to try to pressure opponents over the second half of the schedule.
"We're playing pretty hard and trying to do different things," Roller said of McLean's defense. "We want to put on lots of pressure to help us create a tempo we like."
Marshall (3-11 overall, 2-4 district) had a big night from senior guard Bryan Whittington, who scored 19 points in the win over McLean. Also for the Statesmen, junior center Will Simonton scored 16 points and senior guard Kenton Fisher scored nine. Marshall is home against Madison this Friday night.