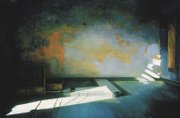 Starting this January, two concurrent exhibits in The George Washington University Virginia Campus Regional Artist Series create a powerful representation of the African-American experience. Neo-realist Sherry Zvares Sanábria brings to the Virginia Campus her luminous and haunting paintings from the series, Unforgotten: Slave Quarters and Other African-American Sites. This moving exhibition consists of some of her recent works exploring and recording sites throughout the country that played significant roles in the lives of African-Americans during the time of slavery and after. The 15 images in the exhibit represent remaining slave quarters and related sites in five states and the District of Columbia.
Complimenting the Sanábria exhibit, Honoring and Commemorating Black Leadership is a selection of the artwork chosen or commissioned by the U.S. Postal Service to honor distinguished African-American educators, scientists, explorers, athletes, musicians, writers, civil rights activists, war heroes and more. The more than 30 high-quality art reproductions range from Frederick Douglass and Mary McLeod Bethune to Langston Hughes, Zora Neale Hurston and Malcolm X. The selection, limited only by space, represents just a portion of the more than 110 images available.
The Sanábria exhibit will be on display from now through March 23, and the U.S. Postal Service exhibit will be on display from Jan. 22 through March 23. The opening reception is scheduled on Saturday, Jan. 24, from 5 to 8:30 p.m., at The George Washington University Virginia Campus, Building 2, 44983 Knoll Square, Ashburn. RSVP by Jan. 20 to reservations@va.gwu.edu or call 703- 726-3650. Directions to campus are online at www.gwvirginia.gwu.edu.