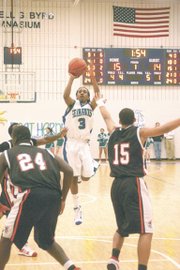 Two backcourt players in particular shined in last Friday night's Liberty District high-school boys basketball game between South Lakes and host team Stone Bridge.
South Lakes senior point guard Travis Williams shined brightest by scoring a game-high 31 points in leading the Seahawks to an exciting 76-72 win in Ashburn. But his backcourt counterpart, Stone Bridge sophomore Nik Brown, also sparkled with a 14-point effort off the bench for the Bulldogs.
Williams, one of the top players in the Northern Region, scored 11 of his points in the third quarter when South Lakes erased a seven-point deficit to ultimately gain a 56-53 advantage at the end of the stanza.
Later in the game, after Stone Bridge closed a 69-59 fourth-quarter deficit to one point at 73-72 on a clutch, three-point shot by senior Nate Ingersoll in the final minute, Williams responded by hitting three free throws over the final 32 seconds to help his team hold on for the win.
Williams missed the first of two free throws with 32 seconds left, but converted the second foul shot and later drained two more with 19 seconds left.
"I owed my teammates after missing the first one," Williams said with a laugh in regards to the missed foul shot.
"At halftime we were down, but we came out hard in the third quarter on offense and we played team-oriented defense," said Williams, summing up his team's stellar play in the third quarter.
<b>PERHAPS THE</b> game's most important swing of momentum came late in that third quarter when Williams, with his team trailing 47-46, nailed consecutive long-rang threes — the first coming from near the top of the key with two minutes, 18 seconds remaining in the quarter and the latter coming from the left wing with 1:50 showing — to give the Seahawks a 52-47 lead. South Lakes never lost the lead after that.
"Travis hit some huge threes," said South Lakes coach Darryl Branch.
For the game, Williams knocked down five treys. Stone Bridge coach Sonny Green could only marvel at the 5-foot 10-inch Williams' play.
"We had no answer for Travis Williams," Green said. "He plays with a lot of poise and confidence and he's a competitor."
Meanwhile, Stone Bridge's Brown was impressive in his own right. The 6-foot, 10th-grader has normally started for the Bulldogs, but recently missed two games with a forearm injury. Coach Green elected to bring the talented Brown off the bench against South Lakes. He responded with a solid outing and was on the floor in the final minutes of the down-to-the-wire game, scoring five points over the final 2:53 to help the Bulldogs down the stretch.
Brown is impressive with his on-court composure, ball-handling skills and different ways of scoring. He knocked down a trey late in the first quarter to give his team a 16-12 lead. Later, as the first half was coming to a close, he drove hard down the lane through traffic and converted a tough chance layup to give the home team a 36-31 lead as the first-half buzzer sounded. He hardly looked like a sophomore out there.
"He's tough," said Branch, the South Lakes coach. "He's going to be a player in this district."
"He plays the game well," Green said. "He gets the ball up and down the court quickly, something we've been trying to do this year."
<b>BOTH SOUTH LAKES</b> and Stone Bridge have had several players make positive contributions this season. That was certainly the case on Friday. While Williams and Brown were standout players in the contest, others made their marks on the game as well.
For South Lakes (9-5 overall, 6-1 in the district), senior frontcourt player Jamal Hulum put together a game's worth of highlight moves near and around the basket. The 6-5 forward scored three times on rebound follow-up baskets. With 3:25 left in the game, his strong layup basket, off an assist from Williams, drew a foul and resulted in a three-point play that gave the Seahawks a 69-59 lead.
"He can be a real force in there," Williams said of his teammate. "He's long-armed, can jump and gets to the board."
Branch said Williams has drawn most of the attention from opponents this season. But Hulum has been an impact player at times as well.
"Jamal was tremendous," said Branch, following his outing against Stone Bridge. "He was really tough on the boards tonight. Every time I looked up, he was snagging a rebound. People key on Travis a lot and I understand why, but we have had other kids who stepped up."
Senior shooting guard Steve Kerr and junior forward Ramin Shadeedian both contributed eight points for South Lakes in the win over the Bulldogs. Kerr nailed a buzzer-beating, game-winner in South Lakes' recent 61-58 district overtime win over Langley on Jan. 6. And junior guard Esua Spicer, celebrating his birthday, brought energy to the lineup on Friday. Spicer, usually a backup, started for the Seahawks and brought down three offensive rebounds in a strong, aggressive showing.
<b>MEANWHILE</b>, Stone Bridge (6-8, 4-3), which has been highly competitive in district play this season, received solid games from an assortment of players against the Seahawks. Four Bulldogs — Brown, Ingersoll (18 points), point guard Richie Berry (16) and senior forward Brian Slay (13 points, 9 rebounds) — scored in double figures. Slay was terrific off the bench. On one occasion in the fourth quarter, he gathered consecutive offensive rebounds before scoring off the second one as he was fouled. His ensuing free throw pulled the Bulldogs within 60-56.
Ingersoll played outstanding. The 6-2 forward's three-pointer from the left wing with under a minute to play got Stone Bridge within 73-72 and evoked a huge roar from the partisan home crowd.
Sophomore guard Kyle Gouveia gave the Bulldogs solid minutes off the bench with four points and steady all-around play.
Green said his team played a good game with the exception of the third quarter. But the Bulldogs nearly came back to win in the fourth quarter.
"The kids showed some resolve and had some opportunities down the stretch," he said. "We have some talent and are working on meshing together as a team. I'm proud of the kids."