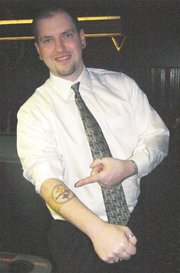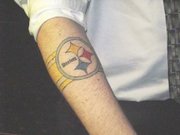 When Robert Bourgeois reports to work this Sunday, a peaceful shift and a quiet atmosphere will not be among the things he expects to encounter.
Two months into his job as a manager at Fast Eddie's Sports & Billiards in the City of Fairfax, Bourgeois expects a capacity crowd to be on hand well before Super Bowl XLIII starts.
"We anticipate it being very lively in here," Bourgeois said. "We'll be crowded. The place will be decorated. You can plan on it being elbow-to-elbow with nothing but Steelers fans."
And, according to Bourgeois, that's at 5 p.m. Kickoff? That's not for another hour-and-a-half.
For as long as anyone can remember, fans of the Pittsburgh Steelers have gathered at Fast Eddie's, located west of Fairfax Circle on Fairfax Boulevard. With the Steelers trying to win a sixth Super Bowl on Sunday, the Fast Eddie's staff expects to have one its most profitable business days of the year.
Fast Eddie's features two full bars. The first — the smaller of the two — greets visitors as they walk through the front door. The second and most populated area features a wrap-around bar located through an entryway leading guests to the dozens of pool tables.
Two projection screens are used to show the games, with audio pumped throughout the facility, and above each bar sit flat-screen TVs for additional viewing. The restaurant staff has even tried to incorporate some authentic Pittsburgh cuisine, such as a sandwich topped with French fries and coleslaw.
Bourgeois acknowledged the money that Fast Eddie's makes on those Sundays when the Steelers are playing requires a significant off-season plan to balance the bar's revenue. In short, business will be missed come Monday.
"We're in the thought process of finding what kind of events can we do to make up for the fact that football season will be over and that big Sunday gathering won't be happening," Bourgeois said. "Financially, running a bar, you have to come up with something that will level out your sales."
<b>BEHIND THE BACK</b> bar stands Steven Gongaware, a lifelong Steelers fan who has worked at Fast Eddie's every Sunday for the past nine months. A self-proclaimed "Army brat," Gongaware spent most of his childhood traveling the United States. But Irwin, Pa., a suburb 30 minutes east of Pittsburgh, has always been considered home.
Since he was a teenager, Gongaware has gravitated toward the restaurant industry. When he turned 18, he started serving. At 21, he became a bartender. But when he decided to leave his previous job at Fairfax's Firehouse Grill, Gongaware became jobless.
Sitting at Fast Eddie's and thinking about the decision he had just made, Gongaware, desperate, found his current, beloved job. Now his Sunday earnings equate to anywhere from 200 to 600 percent more than he makes working a normal shift.
"This is where it's at for Steelers fans," Gongaware said.
As people file into Fast Eddie's on Sunday for the Super Bowl, Gongaware will be there ready to pour, mix and cheer, gladly showing off the Steelers tattoo that wraps his forearm.
While some might prefer to spend such an important Sunday at home in front of some state-of-the-art home theater system, the decision whether or not to work, for Gongaware at least, was an easy one.
"Honestly, with the way the economy is, I've gotta work," Gongaware said. "On a day that's going to bring out as many people that are going to be here, for a bartender, you've gotta work."
As kickoff nears, Fairfax City resident Bill McCann will arrive with his 13-year-old son Jake. The McCanns have been frequenting Fast Eddie's for the past three years, although they typically only attend afternoon games because, after all, Fast Eddie's is a bar.
McCann grew up in Pittsburgh and moved here out of the Navy in 1989.
The McCanns will head for the table in the far back of the first room, directly opposites of the bar's biggest screen. They'll jump and cheer and, most importantly, spend some quality time together.
"It's absolutely the best Steelers bar in Fairfax County," McCann said.