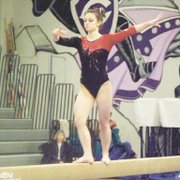 This year's Herndon High girls gymnastics team might not be as dominant as the Hornet squads that took the Northern Region crown each of the past two years. But don't be surprised if Herndon, under longtime head coach Keith Naquin, makes another strong postseason run.
"Our goal this year is to make it to states," said Herndon junior Maria Hayden, the two-time defending region individual champion. "We have a chance if we keep working hard."
Two teams from the region will advance to states in February. Chantilly High is considered to be the favorite to take the region crown, but Herndon certainly is in the running for second place.
"Chantilly is a real powerhouse," Hayden said of the Chargers.
<b>BOTH HERNDON</b> and Chantilly practice together twice a week. Coach Naquin's wife, Maureen Naquin, is the coach of the Chantilly team. Keith Naquin, along with his head coaching duties for Herndon, also serves as a Chantilly assistant.
Herndon has two of the region's top gymnasts in Hayden, who is in her third year with the Hornets, and senior Lauren Sullivan, the team's official team captain. Both are elite club gymnasts who are also proud to be competing for their high-school team.
"Their [success in the sport] definitely comes from their experience and training that they've had in both high school and club [gymnastics]," said Naquin, who is in his 18th year as Herndon's head coach. "They've helped our younger kids with their routines and have played a big sister-type roll."
The Herndon twosome has certainly been the key for a two-time defending championship Hornets' team that lost four key athletes to graduation last spring.
Sullivan, a fourth-year member of the program, is a wonderful example to her younger teammates.
"She's a role model student-athlete," Naquin said of Sullivan. "She has great grades and has been on successful [Herndon] cheerleader teams as well. She's been a club gymnast for many years."
Sullivan is solid in all four gymnastics events — vault, bars, beam and floor exercise — and carries an overall average of about 9.0 combined. She always produces top all-around scores.
"She's just consistent and having fun with [the sport]," Naquin said. "She'll do well in whatever endeavor she takes up [in life]."
Sullivan has loved being a part of Herndon High gymnastics.
"I've had an amazing time and we've had so much fun as a team," Sullivan said. "Being part of two region championship teams has been incredibly exciting. None of us thought it was possible until it happened. I think this year's gone really well. We've kind of really had to step up to the plate."
<b>HAYDEN, MEANWHILE</b>, brings a love and determination to the sport.
"She's a great competitor and gymnast," Naquin said. "She trains all year long and has excellent conditioning. She's always trying to perfect her skills."
Hayden is especially on top of her game in the big meets. Naquin recalled last year's region championships in which Hayden, under the glare of the local media spotlight, was able to focus on her routines and put together an outstanding showing. Not only did Hayden capture her second individual region crown, but she helped Herndon win the team title for the second straight year.
"All of these photographers were clicking away and she was able to tune it out," Naquin said of Hayden's outstanding region meet last winter. "It's a lot of pressure to be a region champion two years in a row. She has an uncanny ability to focus on her routine."
Hayden likes the spotlight.
"I really enjoy the performance part [of gymnastics]," Hayden said. "I love performing in front of the crowd and getting them involved."
Naquin said Hayden is the best gymnast he has coached.
"Maria is certainly the best I've ever had," said Naquin, who has coached some incredible athletes during his time at Herndon and, prior to that, at South Lakes. "She blocks out the pressure and is extremely competitive."
Hayden has put together all-around scores of 9.8 and 9.9 this season and scored a 10 in a meet last year. Like Sullivan, she loves being a part of the Herndon team.
"It's so much fun at Herndon," Hayden said. "It's so light spirited, but we also work so hard."
<b>UNFORTUNATELY</b>, Hayden injured her shoulder during a recent club meet. Naquin and her teammates hope Hayden will be available to compete at the upcoming district championships, set to take place next Thursday, Feb. 5, at Centreville High School. The region championships are the following week, Feb. 12, at Lake Braddock High and states are set for Feb. 20-21.
"She'll have time to heal and rest," Naquin said of Hayden. "She finds it hard to sit still."
"We really need her if we're going to move on," Sullivan said of getting Hayden back for the postseason.
After Sullivan and Hayden, Herndon's next best gymnasts this season have been sophomore Qadera Malveaux and freshman Haley Wynne.
"They've both contributed to us scoring wise," Naquin said of the two underclassmen. "Qadera has improved dramatically since last year. She has picked up good scores as the year has gone on."
Naquin loves what he has in this year's squad.
"We have a close-knit team," he said. "The attitude is to have fun and be competitive."
Herndon is scheduled to host a four-team meet on Thursday, Jan. 29. The visiting teams will be Concorde District rivals Chantilly, Fairfax and Oakton. The meet will be a final tune-up for next week's districts.