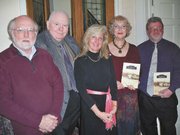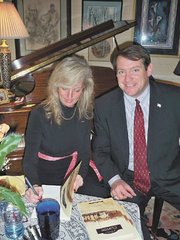 For Clifton resident and historian Lynne Garvey-Hodge, using mostly pictures to tell the story of Clifton's history was a tall order. She wrote over 100,000 words for her original manuscript. Arcadia Publishing, known for its "Images of America" series, limited her to 18,000, 350 for every chapter and just 70 per caption. She joked that it was an exercise in brevity.
On Sunday, Jan. 25 Garvey-Hodge hosted a book signing event for "Clifton" at The Canary Cottage bed and breakfast she operates on Main Street of town. From 1-4 p.m., a gathering of friends, colleagues and residents filled the main floor while Garvey-Hodge signed copies of her book at the rear of the home.
"Clifton" uses photographs from a multitude of different sources to paint a timeline of the town's history stretching back to its purchase by Englishmen in 1710 to the Civil War and subsequent change to the town's current name through the modern progressive era. Garvey-Hodge said in addition to the photos she was able to procure from her town neighbors, some of whom have lived in Clifton for generations, she also spent a good deal of time researching at The Virginia Room in Fairfax and the Library of Congress in Washington, D.C. Because the book was a pictorial essay, some aspects of the town's history without photographic evidence, like the string of reported UFO sightings in 1952, didn't make it into the book. Still, Garvey-Hodge said the format had its advantages.
"I knew it was something I could do without years and years of research," she said.
Garvey-Hodge said Clifton represented a very affluent cross-section of the country's history.
"I really think we are what America is all about these days," she said.
"Clifton" by Lynne Garvey-Hodge is available at major retail outlets including Borders, and Barnes and Noble for $21.95. It is also available in local stores within Clifton such as The Clifton General Store on Main Street and The Cottage Arts on Chapel Road and from internet outlets such as Amazon.com.