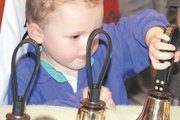 The ASO's annual Children's Arts Festival sold out on last month, with the more than 900 children and parents coming along for Adventures in Music.
Children were able to play with instruments ranging from hand bells to cellos in the instrument petting zoo, creating an amazing cacophony of sound in the lobby of the Rachel M. Schlesinger Concert Hall and Art Center. Outside, kids crowded the art tents -- creating their own guitars and drums out of balloons, rubber bands and cardboard boxes. Children and their parents also got help from the Del Ray Artisans, The Art League and the Torpedo Factory with drawings, paintings and screen printings.
The concert was packed as Maestro Kim Allen Kluge, dressed as the Hobbit Frodo, told the crowd that "Little people can do big things," and led the orchestra through selections from "The Lord of the Rings," "The Lion, the Witch and the Wardrobe," and Bugs Bunny's "What's Opera, Doc?" Student artwork created a splash of color projected in the darkened hall. Kluge also walked the children through a mini music class – singling out each type of instrument and describing a little about each so students would understand a bit more about what they were hearing.
For upcoming events, and information about the 2009-10 season $5 youth matinee tickets, go to www.alexsym.org.