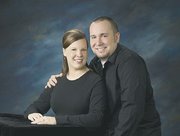 Mr. and Mrs. John Brown, Jr. of Clifton announce the engagement of their daughter, Jessica Marie, to Heath Thomas Ellington, son of Mr. and Mrs. James Ellington, also of Clifton. A February wedding is planned.
Miss Brown is a 2001 graduate of Centreville High School. She received a bachelor of science in athletic training from Wingate University in 2005 and is certified as an athletic trainer. She is currently employed as an operations manager with Pool Pros, Inc. in Northern Virginia.
Mr. Ellington is a 1995 graduate of Flint Hill School and received a bachelor of business administration in hospitality and tourism from James Madison University in 2000. He is currently employed as a program analyst with Northrup Grumman.