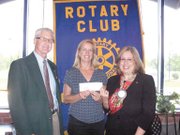 Meagan Ulrich (center), executive director of the Jeanie Schmidt Free Clinic in Herndon, accepts a donation check from Mary Ann Imgram (right), president of the Rotary Club of Centreville, joined by Wayne Chiles (left), assistant governor for Rotary District 7610.
The Rotary Club partnered with the Free Clinic to expand access to medical services for uninsured families in Centreville, as the club's District Simplified Grant project for this year. The Rotary funding provided van transport from Centreville to the clinic's Screening and Eligibility Health Fair in April, as well as taxi vouchers for ongoing patient visits from Centreville to the clinic site in Herndon.
The Rotary Club will again be partnering with the Clinic to sponsor free school and sports physicals for uninsured children at a Centreville location on Wednesday, Aug. 19, from 6 to 8 p.m. The Rotary Club of Centreville meets every Tuesday at 11:30 a.m. for lunch at Eggspectations in Chantilly; visitors and prospective members welcome.
For information about the Rotary Club and its community service, or the Jeanie Schmidt Free Clinic and its services (www.jsfreeclinic.org), contact Mary Ann Imgram who serves on the Clinic's board at 703- 966-8168.