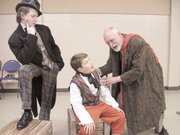 Catchy songs, a fast-paced plot with a happy ending and lead actors with "very strong voices" will make the McLean Community Players' upcoming production of the musical "Oliver!" a fun summer show for the family, said co-director and choreographer Pam McCormack. "And cute kids. It's hard to stop cute kids."
Stage manager Doug Yriart called the show, which is a reworking of Charles Dickens' "Oliver Twist," a "classic-style musical," one that is full of memorable tunes, unlike some modern musicals that are sung more like opera. "The audience will leave with some of the songs stuck in their heads," he said.
"I love the music. I think the music's terrific," said Lyle Blake Smythers, who plays the criminal Fagin. He said the play had a combination of upbeat numbers and "beautiful" ballads.
SMYTHERS said he especially liked his character's songs, which are lively and humorous. The adult leader of the gang of boy pickpockets into which the young title character is lured, Fagin is conniving and dishonest but a likeable personality, making him "a loveable rogue" and a joy to play, Smythers said. "He's like a James Bond villain."
He said he had tried out for the role when the Arlington Players staged the play in 1985 but ended up in the chorus. "I've been waiting 24 years to do it and now I'm doing it."
Mimi Preda said she also enjoyed her character's moral ambiguity. Nancy is the girlfriend of Fagin's brutal criminal associate, Bill Sikes, but also develops a motherly affection toward the orphan Oliver. "I like that she's a little bit good and a little bit bad throughout the show," Preda said. She said she also sought out strong alto roles and had always wanted to play the character.
She added that the play not only has a strong musical score but also offered scenes of dialogue that the actors could "get into."
Smythers said much of the dialogue retained its cockney, Dickensian flavor, and the classic source material brought a richness of plot and character development to the play.
Andrew Bolden, who plays Bill Sykes, said working on the play has been a learning experience. His true personality, his cast mates said, is the polar opposite of his angry, violent character. "It's been an interesting foray into villainy," Bolden said. "Throwing people around, hitting people, being mean. Hollering a lot. That's not typical for me." He said he had usually played comic relief characters. Bolden said he thought he had grown as an actor by "finding this other character, this scary person that I didn't know lived in me."
Like many of the adults, he said he also enjoyed working with the group of children in the play.
WITH A CAST of 40 people of all ages, "Oliver!" is one of the larger plays McLean Community Players has staged.
Wesley Coleman, a rising high-school freshman, said his character, the Artful Dodger, was sly and deft of hand and mind. Right-hand man to Fagin and leader of the boys, it is the Artful Dodger who introduces Fagin and Oliver after the orphan has escaped from the funeral home to which he was sold. "I like the fact that he can get away with almost anything," Coleman said, adding that the character also had entertaining songs.
"I think it's got a good message," he said of the play. "That even if you feel like no one loves you, there's someone out there who does."
This is the first community production that Forrest Brown, 11, who plays Oliver, has been a part of, but he participates in an after-school program taught by the actor who played the title role in the McLean Community Players' production of "Evita" last year. "It's great. This is a very enjoyable cast of characters and people who are very supportive," he said.
Forrest said he was having fun playing such an innocent and gullible character that kept getting tricked into so much trouble.
"He read a scene and it was like he'd been dipped in innocent juice," McCormack said. She said competition had been tough not only for the title role but also for all of the children's roles, with 65 children trying out and only room for 12 in the cast.
Yriart said the scenery was also a major part of the show, which takes place in settings from the interior of a workhouse to the thieves' kitchen occupied by Fagin and his boys, Paddington Green, the Three Cripples Inn, London Bridge and others.
But the sets, all built by McLean Community Players members, must be stored in a space of 10 feet by 10, so the pieces are designed to fold together and collapse in on themselves, he said. "It's like building a huge Chinese puzzle."