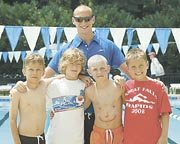 <b>Swim and Dive Results</b>
Here's a recap of contributed reports on what went down in area swimming and diving action this past week.
The Highlands Whomping Turtles defeated the Dunn Loring Dolphins 252.5 to 149.5 in Division 3 action this past weekend.
Double winners for Highlands were: Scott Callander, Claire Collins, Diego Cruzado, Charlie Putnam, Olivia Tripodi and Sara Wilcox.
The <b>Langley</b> Wildthings won their third meet of the season, beating Virginia Run by a score of 220-182 in a meet where nine of the races were won by less than 3/10 of a second. Two new records were set. Double event winners included: Lauren Markwart, Isaac Peress, Jinwon Bailar, Elena Shklyar, Alexandra Cramer, Katie Robinson, Nicole Johnson, Christopher Overend and Meghan Overend.
The <b>Great Falls</b> Rapids (3-0) defeated Fair Oaks, 240-162, in NVSL Division 13 action. The boys 8 & under 100 freestyle relay team of Joey Thomas, Eric Eichler, Evan Guidi and Alex Hanna broke a 15-year old team record with a time of 1:21.50 (2.80 seconds faster than the previous record time). Great Falls captured 22 first place wins and swept three events. Double winners were Julia Bullock, Mary Liz Elliott, Annie Kemmerer, Will Kemmerer, and Max Wingo.
The Hamlet Dive Team defeated Crosspointe, 41-31, led by coach Tuesdee Florence. Winners for Hamlet included Michelle Martin in freshman girls, Danielle Fairchild in junior girls, Patrick O'Grady in junior boys, Andrew Havasy in intermediate boys, Tess Rosenthal in senior girls. Hamlet swept the junior boys competition, with second place going to Matt Fruin and third-place honors for Steven Marinaro.
<b>Babe Ruth All Stars Announced</b>
The McLean/Great Falls Babe Ruth league has announced its All Star teams for the 2009 season. McLean/Great Falls has entered a team in the 13-, 14- and 15-year-old division, as well as fielding an Alliance Team. This year, the 14-year olds will host the District tournament at Langley High School. The 13-year-old all-star game will be hosted by Vienna Babe Ruth and will be played at Waters Field in Vienna, and the 15-year-old team hosted by North Fairfax County Babe Ruth will be played in Herndon at Dulles Corner Field. The Alliance Team play has begun with McLean/Great Falls holding a 1 and 1 record as of July 3. District play for all the 13, 14 and 15 All Star teams will be July 8-12.
The 13-year-old roster includes: Will Bollinger, Nick Casso, Blake Coolidge, Josh Crummer, John DeFriest, Bryan Even, Yuhei Hashimoto, Cal Jadacki, Austin Jenkins, Jake McSteen, Cole Oldenburg and Kevin Wood.
The 14-year-old roster includes: Drew Balog, Colin Cantwell, Tommy Culp, Thomas Dungan, Alexander Fishman, Greg Giordano, Nick Hallmark, Michael Kliska, Jonathan Korobkin, Phillip Morse, Matt Moser, Jonathan O'Connor, Matt Rollman and Will Thomas.
The 15U roster includes: Anthony Baskin, Michael Byrne, Hardy Cox, Gray Decker, Donnie Eckrod, Nathan Flagg, Kevin Green, Brock Hunter, Michael Kelley, Bobby Klein, James Norden, David Paul, Daniel Richardson, Brian Ristig and James Vivenzio.
The Alliance roster includes : Jeff Antetamaso, Joseph Aulisi, Cam Ayoub, Matthew Bielamowicz, Hunter Eckrod, Charlie Fitzner, Matthew Hansan, Cody Jones, Matthew McCreary, Vinnie Neri, Mark Ramsey, Michael Sanders and Timmy Sanson.