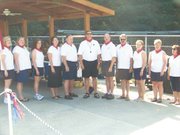 Though it came from an unusual place, the sound that greeted Bill White had a familiar ring to it. Before the Rolling Valley Dolphins' swim meet on the Fourth of July, a group of parents began warming up to sing the National Anthem in the men's room, located down a set of steps and to the far side of the Rolling Valley Swim and Tennis Club.
When White walked down the steps, he could hear a seven-part harmony emanating from, of all places, the bathroom, which substituted as a dressing room because of a driving rain that day. Immediately, White walked in to inquire what was going on.
A deputy program officer for the United States Navy, White moved to Springfield in the mid-1990s and has always loved singing. It relaxes him. In fact, back when it was a college and not yet a university, White graduated from Elon College in North Carolina with a degree in music.
Members of this group, as White would learn, all possess similar backgrounds. Comprised of mostly band and chorus directors, "The Bojanglers" -- a nickname created by Rolling Valley's swimmers -- have become quite the novelty at the Springfield-area pool.
Saturday, July 4 was The Bojanglers' reunion tour, according to one of the group's members, Marietta Morris, as they were singing for the first time since that inaugural appearance 12 months ago.
"I enjoy the fellowship of being with other people and singing with them," White said.
Most of the parents assume other responsibilities for Rolling Valley, which is a Division 16 team in the Northern Virginia Swim League. White, for instance, was in charge of grilling sausage, egg and cheese breakfast sandwiches while other Bojanglers work as timers and meet officials.
<b>IN THE PAST</b> at Rolling Valley, these parents would conduct auditions for others to sing or play the National Anthem at home meets, and the group figured that it might be a valuable experience to utilize their talents. It was also a way for the adults to do something together away from swimming.
"It's a chance to get together outside of when our kids are swimming or when we're working on the deck," said group member Gayle Lennon, who graduated with a music degree from Michigan State and whose husband, fellow Bojangler Mark Lennon, earned the same certification at James Madison University.
Other members of the group include KathyLee Wever, Sheri Burns, Tracy Bank, Dan Hale and Carol Young. Practices take place at the Morris household and Celeste Morris, 10, said she enjoys listening to Bojanglers, who will perform next at the Division 16 Relay Carnival on July 8 at Rolling Valley.
"They practice a lot," she said. "They work really hard. They have a lot of talent, and I think it's a really cool thing because on most teams the parents don't really sing. They usually just cheer. But at our pool, they sing."
Rolling Valley swimmer Maria Nunez, 13, whose parents, Ivan and Susie Nunez, sing with the group, said the Bojanglers' act has become somewhat of an inspiration for the Dolphins.
"When our parents work hard toward something," Nunez said, "it makes us want to work hard, too."