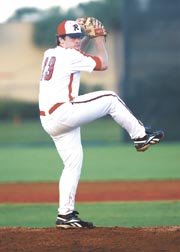 <b>McMahon Dealing</b>
On Friday, July 3 for the World Wood Bat Association 2009 Graduates/U-18 National Championship in East Cobb, Ga., West Springfield graduate Richie McMahon led the Richmond Braves 2009 National Team to a 4-2 win over the Big Hitter Diamond Stars, throwing a complete-game gem. Only one of the two runs McMahon allowed was earned, as he also limited the Diamond Stars to only five hits and two walks. McMahon will pitch for Chesapeake Junior College this fall.
<b>Lyles Looks Smart</b>
Lake Braddock graduate Kristin Lyles, now a junior on the women's crew team at the U.S. Naval Academy, was recently recognized as a member of the Patriot League's Academic Honor Roll. A chemistry major, Lyles had a 3.24 grade-point average during the spring semester. In order to garner eligibility for the academic honor roll, a student-athlete must have a GPA of 3.20 or higher during that semester and earn a varsity letter. Across the Patriot League this spring, 96 women's crew team members earned the distinction. In 2009, the Navy women's crew team was 11-4 and finished second in the Patriot League.
<b>Softball Registration</b>
The Pioneer Softball League is conducting registration for the fall 2009 season. Teams form Aug. 17 and practice starts Aug. 20. The season will run from Sept. 8-Oct. 31. Registration fees are $70 for Rookies (7-8-year-old, coach pitch) and $70 for Minors (9-10, kid pitch), Majors (11-12) and Seniors (13-16). A 10-percent discount will be given to those who register before Aug. 1, and there's a maximum cost of $250 for families with multiple players. Assessments for players will be held Aug. 8 and 15. For more information or to register, contact director Scott Keith at 703-933-2389 or scott_w_keith@yahoo.com or visit the team's Web site at www.pbsl.org.
<b>Senior Olympics Registration</b>
Register now for the Northern Virginia Senior Olympics, which take place Sept. 12-23. Registration forms are available at senior centers and residences or by calling 703-228-3600 (Ext. 9996). Seniors can also download registration forms, rules and other details at www.novaseniorolympics.com. The deadline for registration is Aug. 28; however, early registration is appreciated. Cost is $10 for one event and $1 for each additional event. Last year more than 500 adults competed in 25 events that range from track and field to team line dancing. New this year, too, will be Wii bowling and mini-javelin throw. The track events will be at Thomas Jefferson Community Center, 3501 S. 2nd St., Arlington, following the Opening Ceremonies on Saturday, Sept. 12, at 10:30 a.m. A health fair sponsored by Virginia Hospital Center will also take place that day, from 9-11 a.m. All events are open to the public at no charge.
<b>Fastpitch Softball Tryouts</b>
The Virginia Crushers fastpitch softball team will hold tryouts for the 2009-10 (fall-spring) season at Hylton High School in Woodbridge. Tryouts for the U-10 (10 a.m.-noon), U-12 (noon-2 p.m.) and U-14 (2-4 p.m.) teams will be Saturday, Aug 8. and Sunday, Aug. 16. Tryouts for the U-16 and U-18 teams will be Saturday, Aug. 15 (2-4 p.m.) and Tuesday, Aug. 18 (6-8 p.m.). There are no boundary restrictions for the Crushers. For more information, visit the team's Web site at www.vacrushers.com, call 571-233-0174 or email va.crushers@yahoo.com.