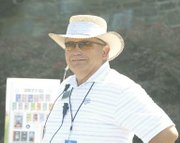 At Tiger Woods' golf tournament last week at Congressional Country Club, the gallery favored the main putting green as a prime viewing venue. Each day, it served as a crossroads for those headed to the first and 10th tees. The chipping green and ninth green are nearby, as are the locker room entrance to the clubhouse and the pro shop, and the area was always jammed with people.
Presiding over this circus was Springfield resident Ken Spencer, a longtime volunteer marshal.
"This is the best place to work," said the genial Spencer. "I love talking to people and there's always something going on."
Spencer, who lives in the Saratoga community of Springfield, retired from the Air Force in 2000. The former B-52 navigator/bombardier now works for the defense contractor Booz Allen. He has been marshaling at golf tournaments around the country since 1981 and worked at the old Kemper Open and Booz Allen Classic.
He and his team manage crowd and player movement in the area where fans are most likely to get autographs and observe the pros up close.
Most of the players passed by Spencer as they exited the locker room. Each met his caddy in front of the bag room and then hit a few putts before heading to the practice range to warm up.
At the end of each round, shuttles carried the pro and his caddie up the hill from the 18th green and dropped them at the scoring tents. After post-round media interviews, Spencer formed a corridor for the players through the crowd to the locker room.
When Woods passed through Spencer's domain, crowd control problems increase tenfold. A squad of police officers and special marshals assisted Spencer's team, but the crush of the gallery surpassed that of any other golfer, king or movie star, for that matter.
"All of this," he said, waving his arm at the sunburned fans and a sprinkling of pros, "makes for long days." He arrived at Congressional each day at 6 a.m. and left at dark. "But it's great fun."