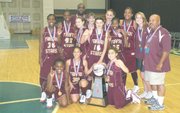 <b>National Champions</b>
The Fairfax Stars Gold, a U-11 girls' basketball team, which features players from Vienna, Oakton and Fairfax, defeated the Dayton Lady Hoopstars, 46-42, on Wednesday, July 1 to win the 2009 11-and-Under Girls' AAU Division I National Championship, which was held in Kenner, La. The Stars won the 10-and-Under Girls' AAU National Championship last year in Orlando, Fla. and entered this year as the No. 1 seed. They completed the season at 52-1, with the only defeat being a four-point loss to a team from Tennessee during the pool-play portion of the 52-team tournament. The Stars ran off five consecutive victories against the best teams in the country to take home the trophy.
<b>Marshall Lacrosse Camp</b>
Maximize your lacrosse learning with the best camp price in the state. The Lady Statesmen lacrosse camp is designed for all levels of lacrosse players. Coach for George C. Marshall High School, Nicholle Depaz, provides a staff with high school, college club and NCAA D-I experience. This year Coach Depaz was selected to present, "5 Ways to quickly develop New Players to Lacrosse," at the 2009 U.S. Lacrosse Convention. Whether you are new to the sport or ready to take your game to the next level, Lady Statement Lacrosse Camp will challenge you this summer to get where you want to be.
George C Marshall High School will be hosting the Lady Statesmen Lacrosse Camp this summer on their new stadium turf field. The three-day camp begins July 30 and ends Aug. 1. The camp is for girls ages 8-16 and is $125 for those who register before July 10. For an additional $15, students can rent the equipment they need to learn the sport (goggles and a stick) for the duration of the camp.