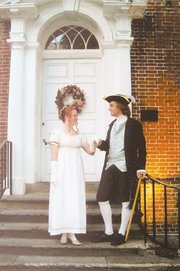 Gadsby's Tavern Museum invites the community to experience the time of Mr. Darcy, Elizabeth Bennet, and Jane Austen at their late 1790s ball, on Saturday, Aug. 15. The Jane Austen Ball will feature live music, beginner and advanced English country dancing, and cool summer refreshments.
The Jane Austen Ball will be held in the historic Gadsby's Tavern Museum Ballroom. The festivities begin at 8 p.m. and continue until 11 p.m. Costumes of the 1790s-era are encouraged; "after five" attire is recommended. Tickets cost $45 in advance and $50 at the door, and advance reservations are required. Tickets may be purchased online at www.gadsbystavern.org or by calling 703-838-4242.
Participants can prepare for the ball with instruction from dance master Corky Palmer on Thursdays, July 30, Aug. 6 and 13 from 7:30 to 9:30 p.m. Learn the basic steps of English country dancing for $12 per class or $30 for the series.
In the late 18th and early 19th centuries, Gadsby's Tavern was the center of social and political life in Alexandria and the new Federal City of Washington. The tavern served as the premier gathering place for residents — including George Washington — and visitors to eat, drink, learn, and influence history.
Gadsby's Tavern Museum is located at 134 North Royal Street in the heart of Old Town Alexandria. Visit www.gadsbystavern.org.