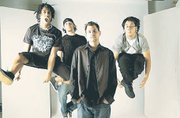 Selling T-Shirts to fans who recognized them at a gas station, handing out a CD to a man that they met taking out the trash at McDonald's and greeting all of their fans with a friendly reception are just some of the ways that local band Along Those Lines has tried to make sure that their music is heard.
Now, someone is listening. The band formed about three years ago and has undergone several lineup changes, but they were recently invited to open for Nigels11, featuring former NSYNC member Chris Kirkpatrick, on Aug. 9 at the State Theatre in Falls Church. Along Those Lines members now include Benjamin Bradley of Vienna on lead vocals and guitar, CJ Cummings of Gainesville on lead guitar, Jared Dumale of Springfield on drums and Isaac Shields of Gainesville on bass and vocals.
Members' backgrounds represent many genres on the musical spectrum ranging from a classically trained percussionist to a bass guitarist raised on funk. Their collective style as a band, though, they describe as alternative rock with a twist. Jon Chevalley of Alexandria, the band's manager, said that the style is popular among listeners.
"Once they hear the music, they usually love us because the type of music and the style is very appealing to a large audience" Chevalley said. "The challenge is to get new people to hear the music."
Northern Virginia is a difficult area to establish an audience, band members said, because they find they are competing not only with other local bands but also with people's busy schedules.
"It's actually one of the most competitive scenes" said Dumale. "It's so busy around here that you want to go play a show, but if people are doing something else, or they have such a busy week, they don't want to go see a show. … It's probably one of the hardest things we've ever done trying to get fans in our own neighborhood."
Members of Along Those Lines said they have found better reception from audiences in other states. Besides Virginia, they are looking to expand their fan base in places like Maryland, Pennsylvania and North Carolina. They have begun to establish a niche for themselves with audiences on military bases. In addition to playing many local venues like Jammin Java in Vienna and Jaxx Night Club in Springfield, the band has also been invited to play at Camp Lejeune, N.C.; Fort Bragg, N.C.; Bolling Air Force Base, Md. and Quantico, Va.
Bradley said he appreciates the military fans and even wrote a song titled "War Song" to encourage his friend and band manager Chevalley, who was deployed at the time. Some of the proceeds for another one of their upcoming shows at the State Theater on Sept. 11 will go to the Wounded Warrior Project, an organization whose mission it is to empower wounded military members.
So when will the band know they have succeeded in the competitive world that is the music industry? Band members say it will be when they can finally play music professionally full time.
"If you're doing what you're loving, you're making good music and you're touching people's lives, everything else will fall into place" said Bradley. "I just don't think that being on MTV and all this other stuff, if that's your goal or an amount of money … I just don't think you're in it for the right thing. We want to do this full time, but more importantly, we want to touch people and all of our songs have a message."