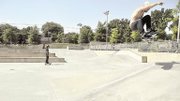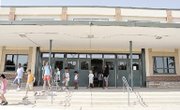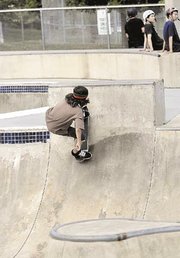 Margaret Tate had a routine when she would come to the Gunston Community Center in South Arlington. Every morning before commuting to work Tate paid a visit to the facility's fitness center.
But that habit was thrown into flux on July 1 when fiscal year 2009 budget cuts for Arlington County's Department of Parks, Recreation & Cultural Resources (DPRC) went into effect. In an effort to help resolve the county's estimated $10 million budget deficit, the Arlington County Board voted to cut community center hours by 17 percent. In addition, starting July 1, fitness center membership rates were increased by 15 percent.
"Now I have to go [to the gym] after work, which is inconvenient," said Tate, of Gunston Community Center, which opens at 2 p.m. instead of 9 a.m. as a result.
In total, nine of Arlington County's 13 community centers saw changes in hours, with Charles Drew Community Center the lone facility to see its hours increase. Lee Community Center has seen the biggest decrease in its usage, with more than 14 hours cut from the weekly schedule.
The moves to increase fees and decrease hours came on the same day the Department of Parks, Recreation, and Cultural Services (DPRCS) made admission to Powhatan Springs Skatepark on Wilson Boulevard free, eliminating a cashier position and full time adult supervision of the park.
<b>ACCORDING</b> to the director of marketing and communications for the DPRCS, Susan Kalish, the county had been monitoring the usage of Arlington's community centers and skatepark for close to two years, well before the current budget became so tight. She said that while programs might be moved, none have been eradicated as a result.
"We were always looking to see if we were being the most cost effective," said Kalish. "So you may not get the program at the center closest to you, but it will be moved to somewhere that is accessible by bus or has a parking lot."
Kalish said the fitness center price increases came about in the past several months, as the county took a closer look at its fee structure to make sure taxpayers are "getting the most bang for their buck." In the process, the county determined fitness centers to be more for the "personal good," rather than affecting the community as a whole.
Still, Kalish said the county made sure the fitness center rates remain comparable with the prices around the area. Those receiving subsidies at local community centers will be mostly unaffected, though. Any Arlingtonians who live in Section 8 housing or whose children receive free or reduced lunches are still eligible for county subsidies.
"We don't want fee to be a barrier," said Kalish. "From the research we've done, the rate increases will not adversely affect usage and we still have safety net for those in need and they're comparable to our peers."
<b>BUT THE ELEPHANT</b> in the room for some parents lies within the halfpipes, ramps, and rails of Powhatan Skatepark. The park used to be watched by a staff member who also collected money at the gate, but revenue was so miniscule it didn't cover the expenses of having an employee. So with admission to the park now free and major injuries non-existent since the facility opened in the summer of 2004, the county has decided to assign park "rovers" to monitor skaters.
Kalish said the rovers are assigned to multiple parks and that the only time they would definitely be at the skatepark were during select hours when the halfpipe and ramps transition from skateboarders only to bikers only.
"I feel like parents need to be responsible, which is why I'm here watching," said Debbie Katz of Herndon, who was at the skatepark last week watching her teenage son, Josh, skateboarding. "It is a little concerning … I would like to see maybe more than one person watching out for the safety of the kids."
Kalish said the county "benchmarked what they were doing with other skateparks around the area to make sure we weren't doing something crazy," before making the final decision to eliminate the park's staff member.
One of the rovers at Powhatan last week, Mohommed Jamleh, said he wasn't too concerned about serious injuries.
"There shouldn't be any if everyone follows the rules," he said of regulations that make every rider wear a helmet and force those 10 and under to be accompanied by an adult. "If there is a serious injury, we will call 911."
<b>KALISH SAID</b> the county found the most egregious rule breakers over the years to be adults who use the park in the morning and refuse to wear helmets.
She maintained, though, that the changes put into place over the last two weeks remain a work in progress and are adjustable according to what Arlington residents want out of their community centers, fitness facilities, and skatepark.
"What we have right now is what we think will work and if it doesn't, we'll change it," said Kalish. "The only thing that can't be flexible is the bottom line … it cannot go in debt. How that is achieved is fair game based on what the community needs."
To give an opinion or find out more about recent scheduling changes, visit any Arlington County community center, email the county at parksandrecreation@arlingtonva.us, or call the Department of Parks, Recreation, and Cultural Resources at 703-228-4747.
<i>The Connection's Danny LeSueur contributed to this article.</i>