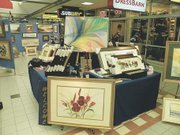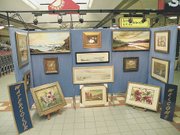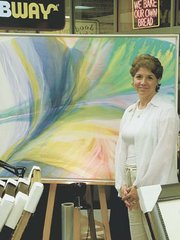 Springfield resident Anabela Ferguson certainly knows the secrets of success for any blue-collar artist. She knows how to gain fans, impress critics and, most importantly, she knows how to earn a living.
Ferguson, a T.C. Williams High School graduate, can only be described as prolific, constantly churning out beautiful landscapes, ocean views, flowers and more in myriad styles and media. Now, in an effort to expand her business profile, she has taken on new assignments, ranging from replicating photographs to custom framing, and has them on display at Huntsman Square Mall through July 19.
"I never stay still and I'm never finished," Ferguson said. "Every day is a challenge for me. If I'm not painting, I'm at the library reading about art."
Ferguson, a native of Santiago, Chile, had a leg up on most artists from birth, as she was born into a family that had more than its fair share of talent. Ferguson's grandfather, with whom she lived, was a nationally renowned artist. After studying in Europe on an art scholarship, he became a professor at the Fine Arts Institute in Chile. While in Europe with her grandfather, her grandmother immersed herself in the Berlin, Germany art scene and gained recognition upon her return to Chile. In addition, her mother was a member of the Chilean National Ballet when Ferguson was a child.
"I lived in my grandfather's house and we were always present at his exhibits," Ferguson said. "We were always exposed to different kinds of people and we all picked something up."
IN 1979, Ferguson immigrated to the U.S. to be with her mother, who was then a diplomat in the Organization of American States, headquartered in Washington, D.C. Though she attended an art conservatory in Chile as a child and in spite of her childhood experiences with art, Ferguson did not immediately jump into the professional art world, instead taking other jobs.
Her foray into art in the U.S. began about 10 years ago, when she worked at Weichert Realtors in McLean. At the time, she was only painting for her own enjoyment, when an agent who knew of her hobby asked her to paint a picture of a listing that had sold, using a photograph. Ferguson accepted the offer, and the agent and client were impressed and pleased. Sensing that there could be a market for her work, she promptly left the company and committed herself to her art.
After creating several works, Ferguson landed her first exhibition when the Fairfax Safeway agreed to let her display her paintings on two small tables. Though the experience was trying for several reasons, Ferguson's instinct were correct, as she made more than $5,000 selling her work at that first show.
"I was pregnant, and here I was loading all of my paintings and [display] panels into a little Saturn," Ferguson said. "But I made $5,000, and that was the beginning of my art career."
Today, armed with the experience and knowledge gained over the last 10 years, Ferguson is attempting to expand her profile and attract more clients. She has expanded her business into framing, providing custom framing for just about any item including paintings, posters, photographs and more. In addition, she can be commissioned to do custom work, for which she will come to the client's house and make her color choices based on the layout and scheme of the person's home.
"I try to study the market before I set up a show or do a painting," Ferguson said. "I try to make sure I have paintings that appeal to all people. Here [in Springfield], I try to make sure I have enough on the conservative end, more traditional works."
Moving forward, Ferguson said that her main goal is to attract corporate accounts, because that is where she can gain exposure. She said that corporate buyers commission bigger, more expensive pieces and are also repeat customers. To achieve this goal, Ferguson has applied to the Fairfax County Chamber of Commerce, so that her work can be promoted on a bigger scale and so she can secure locations to display her work.
"All of my paintings are my loves. They're like my children," Ferguson said. "I only paint what I love."