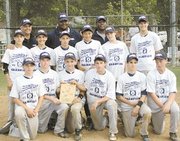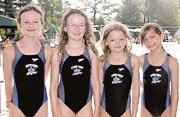 <b>Dive Champ</b>
The Northern Virginia Swim League-Diving hosted the 42nd annual Wally Martin 3-Meter Championship on Sunday, July 12, at OakMarr Recreation Center and one McLean diver stood out from the rest.
Evelyn Gray of Highland Pool in McLean captured the freshman girls' title with a score of 83.14. Second place in the freshman division, which featured divers ages 10 and under, went to Madison Fletcher of Hamlet Swim Club. Kim Pilta of Great Falls took second place in the senior girls division.
<b>Swim results</b>
Here's a recap of contributed reports detailing how action progressed during this week's NVSL slate, which included both dual meets and relay carnivals.
The Great Falls Rapids won the Division 13 Relay Swim Carnival on July 8, at Sleepy Hollow Rec. It's the first relay carnival title for the club since 1993. Thanks to some strong showings, the following six Great Falls relay teams will compete in All Stars on July 15, 2009 at Springboard Pool in Springfield.
* 8 & Under Medley Girls: Annie Mahoney, Grace Hetherington, Karlye Pallotta, and Julia Bullock
* 8 & Under Medley Boys: Evan Guidi, John Hetherington, Joey Thomas, and Eric Eichler
* 13-14 Girls Medley: Mary Liz Elliott, Jamie Mulligan, Annie Kemmerer and Elizabeth Longosz
* 8 & Under Free Girls: Annie Mahoney, Samantha Thomas, Karlye Pallotta and Julia Bullock
* 8 & Under Free Boys: Evan Guidi, Alexander Hanna, Joseph Thomas and Eric Eichler
* 11-12 Boys Free: Max Wingo, Luke Brugel, Eric Owens, and Will Kemmerer.
Great Falls (4-0) also defeated the Sleepy Hollow Sharks, 224-178 on July 11. Double first place winners were Julia Bullock, Mary LIz Elliott, Eric Eichler, Annie Kemmerer, Will Kemmerer, Max Wingo and Allie Zeidan.
In Dominion Country Club League (DCCL) action the RiverBend StingRays defeated Springfield Golf and Country Club, 374-141. Winning four events each were Micaela Grassi, Amanda Maruca, Jess Hawkin and Devlin Wesolowski. Eliza Pastore and Will Koeppen each won two events. The 8 and Under Girls Freestyle Relay Team of Charlotte Bell, Delaney Bond, Emma Grassi and Eliza Pastore broke the team record which they set earlier this year by lowering the mark to 1:23.22. The 3-1 StingRays head back to the pool this week to prepare for Saturday's meet against Trump National for the league championship.
The Langley Wildthings lost for the first time this season to Cardinal Hill, by a score of 187-215, but broke three new records. Double event winners included: Isaac Peress, Jinwon Bailar, Schulyer Bailar and Meghan Overend. Katie Robinson broke the 11-12 backstroke record she had broken earlier in the season, this time going a time of 36.08. Jinwon Bailar broke the 9-10 fly record he had set previously, this time going a 16.49. The 13-14 Girls medley relay team of Sarah Horan, Nicole Johnson, Schuyler Bailar and Kat Owczarski broke its own medley relay record, with a time of 1:05.15.
<b>Youth Baseball</b>
On Sunday, July 12, the McLean/Great Falls 13U Babe Ruth All Stars won the District 7 tournament at Waters Field in Vienna. They defeated Arlington, 7-1. The team advances to the state tournament, which begins Thursday in Fisherville, Va.
<b>Softball Registration</b>
Northern Virginia Senior Softball (avg. age 65) seeks men 50+ & women 40+ to play Fall Ball, two, seven-inning slow-pitch softball games on Fairfax County fields Tuesday and Thursday mornings, Sept. 8-Oct. 30. NVSS has 26 teams organized into three skill-level conferences. Players are assigned to a team at the skill level they meet by a skill assessment, not a try out. Eleven play defense. Everyone present bats. Phone Dave, 703-524-5576, or Ted, 703-913-0028. See nvss.org
<b>NOVA Senior Olympics</b>
Senior adults 50 years of age and over are eligible to enter the 2009 Northern Virginia Senior Olympics on Sept. 12-23. Participants must also live in one of the sponsoring jurisdictions. Registration information is available at local senior centers, community centers, senior residences or by calling 703-228-4721. Details can be downloaded online at www.novaseniorolympics.com. Registration deadline is Aug. 28.
More than 25 indoor and outdoor events are offered and seniors may compete in more than one sport. Each event is divided into age categories. Registration fee is $10, which includes one event. Additional events are $1. Additional fees are charged for golf and bowling. Winners will be awarded gold, silver and bronze medals after each event.
New events in 2009 are Wii bowling and mini javelin throw. Other events are track and field, swimming, diving, tennis, golf, table tennis, miniature golf, bowling, pickleball, racquetball, scrabble, ice skating, board games, card games, shuffleboard, men and women's basketball, team line dancing, yo-yo tricks, bait casting, eight ball pool, Frisbee throw, softball hit and throw and more.