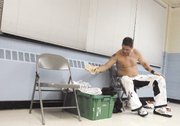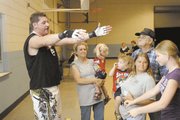 Just beyond a Best Western in Wilmington, N.C., a red brick building sits to the left of seven orange barrels, loose gravel and a sign alerting visitors that the road ahead is not fit for use.
That building, the Coastline Convention Center, used to host wrestling shows. Seven years ago, Mark "Carnage" Perez was carried away from that brick building on a stretcher. In a summer 2002 match, Perez suffered a cut in the middle of his forehead, courtesy of Abdullah the Butcher's hand and a fork.
"Whenever you wrestle Abdullah the Butcher, there's going to be blood," said the 47-year-old Fairfax resident. "Somebody's getting cut."
Memories like these do not deter Perez from living his dream. They encourage it. Although he's been luckier than most, having yet to suffer a broken bone, Perez has no peaceful way to describe the way he spends his weekends.
Spending between 20-25 weekends a year on the road, Perez wrestles in convention centers, armories or gymnasiums, sometimes for little or no money.
But the 6-foot-5, 260-pound Perez also has children and a stable job, working for the past four years as a business services coordinator at Sallie Mae, a financial services firm based in Reston where Perez has his own office and a staff to supervise.
Perez was married once but has been divorced for 10 years. Only one of his children still lives in the area. Mark Perez Jr. lives with his mother in Chambersburg, Pa. and occasionally escorts his dad to the ring. His middle daughter, Heather Fuller, died from cancer in 2004 at the age of 18.
"Even after all this time, it's still pretty weird seeing a little kid running up to your dad asking for his autograph," said Kandi Welsh, 22, Perez's oldest daughter. "Even though I've been seeing it since I was tiny, it's still pretty weird because in my eyes he'll always just be my dad."
<b>ALFONZO WEBB</b> has spent the past 13 years of his life at Sallie Mae and the past three of them working under Perez. Webb graduated from George Washington High School and wrestled during that time at 95 pounds. Now, he plays the bongos in a funk band called "The Suns of Soul."
Whenever materials are delivered to the loading dock at Sallie Mae, it's Webb's job to greet the carrier and to make sure the drop-off goes as planned. It's not Webb's job, though, to intimidate that person.
"When the delivery people come in here, I tell them, 'Don't be coming up here with a bunch of noise. My supervisor is a professional wrestler,'" Webb said. "I take them over to his office and show them the pictures."
The pictures to which Webb directs deliverymen include the poster from the night when Perez's forehead was turned into a dinner plate.
Director of building operations Larry Zepp, Perez's boss, said that he's yet to see a banged-up Perez hobbling into work on Monday morning, the differences in his two career choices are striking.
"A lot of people have more than one career, but I think this one's a little bit more flashy than the others," Zepp said. "You have a little difference in perspective that way."
<b>THIRTY-FIVE</b> miles southwest of the Coastline Convention Center sits a small fishing town called Shallotte, N.C., with a population of about 1,600. In the summer of 2001, Perez had finished a show with his tag team partner, an up-and-coming star named Mike Youngblood, and the two stopped off for a few beers at The Anchor Inn, a hole-in-the-wall, blue cloud-type place where Harley Davidsons line the sidewalk outside.
The bar's owner dabbled in professional wrestling and would routinely invite both wrestlers and fans to mingle there after shows around Shallotte. After Perez and Youngblood kicked off what would become a six-year partnership, an overzealous, inebriated fan took exception to Youngblood and was in the process of swinging a beer bottle at his head. But before the fan connected, Perez dropped him with a single punch.
"Ever since then, we've been like brothers," Youngblood said.
A slightly more heartwarming story makes its way around Shallotte, too.
When Savannah Powell was about to turn 8, her mother, Karen Powell, sent an e-mail to a wrestling promoter she knew. It would be great, she said, if maybe Perez could send some sort of birthday wish to her daughter.
A few months before, Savannah had seen Perez at the town's Wal-Mart, located less than a mile from the U.S. Army National Guard Armory. Several wrestlers were there signing autographs, but Perez was the only one taking it seriously. So Savannah approached him and struck up a conversation.
Instead of just e-mailing Savannah for her birthday, Perez recalled that Wal-Mart conversation and decided to show up for the party.
"That was crazy," Savannah said. "I had no idea about it."
But the next few years weren't as enjoyable, as Karen Powell died. Savannah Powell, though, has kept in contact with Perez through e-mail and the two reunited on Saturday, June 27 at a wrestling show in Shallotte for the first time in six years.
<b>THREE ROWS</b> of steel chairs adorn three-quarters of the wrestling ring, and the barren side gives way to a garage door and a gravel and grass parking lot where a hazardous waste storage unit sits off to the left. The ring for the night's show is comprised of a steel frame with a 1-inch sheet of plywood covered by a blue and red canvas. Foam-padded steel wires tie everything together.
Seven matches are scribbled on a piece of paper in the locker room, which sits to the right of the concession stand where they're selling Sam's Choice-brand soda.
Perez will be "going over" tonight, wrestling's way of saying that he will win. The opponent he'll be wrestling -- or "working" -- goes by the ring name of Djinn and has been in the business on and off for seven years.
Once it's determined that they'll be working each other, Perez and Djinn confer to discuss strategy and how they want the 8 to 12-minute match to end. Perez and Djinn hatch a plan that has Djinn landing a cheap shot before the match while Perez interacts with his fans. The design here is to turn the crowd against Djinn. He's a "heel" or the antagonist. Perez, meanwhile, is considered a "face" -- short for "baby face" -- and essentially the protagonist.
James Beasley has always been a face around Shallotte. During high school, Beasley worked a part-time job setting up and tearing down wrestling rings for $75 a show. Then at a show in 1980, one wrestler didn't show and the promoter asked if anyone could "bump and sell," which is parlance for looking serviceable enough as a wrestler. Beasley could.
After making $150 that night, Beasley was hooked. Not only was it double his previous earnings, it became a hobby for Beasley, known around the ring as Beast. Since that day, Beasley has wrestled in more than 14 countries. In addition, the grandfather of 10 owns his own taxicab business.
One of his taxis idled near the hazardous waste storage unit in Shallotte as Beasley tossed two bags in its trunk and walked gingerly to the driver's side. Beasley's wife was taken to the hospital earlier that day. He offered to stay with her and cancel his appearance at the show; however, she told him to leave, knowing how miserable he'd be if he missed a show.
"This is worse," Beasley said, "than a drug addict needing a fix."
On Sunday morning after the show, Perez didn't struggle. He was awake before 9 with only minor back pain and a sprained left ring finger. In his mind, he'd like to keep wrestling for at least 10 more years.
"I'm meeting more and more people every year," Perez said. "I'm in so many different places and working with so many different promotions, it's never the same. That's the beauty of what I do."