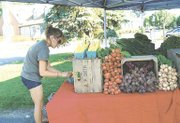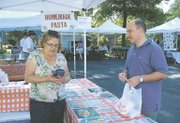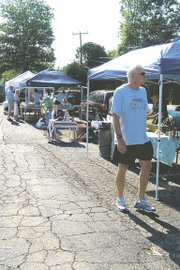 Patrons of the weekly farmers market at the Village Centre in Great Falls say they find much more than just fresh farm produce and overall high quality there.
The Market began on April 25 and will run until Nov. 21. The Market is open from 9 a.m. to 1 p.m.
Fifteen vendors come weekly to the market to offer their foodstuffs and goods. In addition to the expected produce provided by multiple vendors such as Bigg Rigg Farms, the market offers baked goods, wine, meat and dairy products.
While the traditional farmers market focuses on the produce, this market features other goods with equal prominence.
The market is sponsored and run by the Great Falls Charitable Foundation. On site was Market Manager James Monroe. Monroe supervises each vendor and ensures that everything runs smoothly. He said that the market's existence is based on vendor and patron participation. "The market has been very successful," he said, because of the "great response from the community."
All vendors are local. Some provide produce that cannot be found elsewhere.
Ole Pioneer's Kitchen sells homemade, wholesome meat products such as sausage. Although this is their first year at Great Falls, Ole Pioneer's Kitchen already has a strong fan base. "The only reason I'm here is for this meat," said Thomas Cole of Great Falls.
In addition to the market being a resource for fresh, wholesome food, it is also an opportunity for the community to come together. The market is not exclusive to food vendors either. The Neighbors Network, a local non-profit, has a booth at the market, fund raising for care packages for American soldiers in Iraq and Afghanistan.
The Great Falls Farmer's Market has much to offer. "[The market] is a great place for people to see one another," said Sharon Rainey of the Neighbors Network.