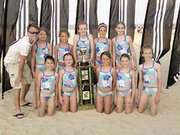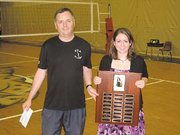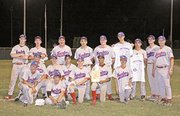 <b>A Sure Classic</b>
On Thursday, July 16, Chantilly senior Kevin McBride did something that just might give require a little bit of bragging amongst fellow members of the boys' soccer team when classes resume in the fall. With the D.C. United U-18 Academy team, McBride played a nationally televised game — on ESPN Classic — against Carmel. Though D.C. United suffered a 1-0 loss, McBride started on defense and played the entire game. With the loss, D.C. United's record dropped to 25-6-5 on the season. Other local members of the team included Robinson's Samir Badr, who did not play against Carmel, as well as starters Andy Najar (Edison) and Alex Herrera (Yorktown).
<b>Division Meet Next</b>
The Brookfield Breakers wrapped up their regular season on Saturday, July 18 with a 247-155 loss to Hunt Valley's swim team. Although the Breakers were beat, many swimmers had impressive individual achievements. Scoring double first-place finishes for the Breakers were Kieran Nelson, Anna Kenna, Claire Kenna and Shannon Silsby. Others finishing first for Brookfield were Ryan Brault, Anne Ettare, Kelly Guerrero, Martina Conti and Alexa Conti. The Breakers will travel to Mantua (Mantua) on Saturday for the NVSL Division 7 meet. The Breakers wish to thank team representatives Kathy Richter and Patty Laing for their time and dedication.
<b>Beach Blast</b>
Playing barefoot on sand, the Southwestern Youth Association Storm, a U-10 girls' soccer team, remained unaffected. The Storm, dubbed Category 5, captured the 2009 Beach 5 Sand Soccer Tournament, held July 27 in Ocean City, Md. Sponsored by Keller Williams Fairfax Gateway Realtor Group, the Storm went 4-0-0 throughout the tournament and outscored its opponents, 18-1. In the first two rounds, the Storm notched wins over the ASA Royalty and the BMYSA Stingrays by a total score of 10-0. In the championship game following a semifinal win over the CSA Speed, the Storm earned a 5-1 win over the HMMS United Team to win the tournament for the second straight year.
<b>Chargers Sign</b>
Two Chantilly baseball players, first baseman Brian King and shortstop Danny Bates, signed letters of intent to continue their careers at the University of Virginia's College at Wise. King hit .370 with six home runs as a senior on a baseball squad that reached the Northern Region semifinals. Bates, meanwhile, hit .413 with 21 RBIs and a .643 slugging percentage.
<b>Burn Advances</b>
The Chantilly Burn, a U-15 girls' soccer team, recently won the U.S. Youth Soccer Region I Championship to advance to the National Championships in Lancaster, Mass. at the Citizens Bank Fields at Progin Park. The USYS National Championships will feature top teams from U-14 through U-19 and begin on Tuesday, July 21. After three days of round robin play, the top two teams in each age group will face off to determine a champion. The national championship game is scheduled for Saturday, July 25.
<b>Summer Camp</b>
Chesterbrook Academy Elementary School in Chantilly will host a Fit Kids T-Ball/Baseball Camp for ages 5-8 from Aug. 3-7. During the five days, campers will work on skills such as learning the correct batting stance, fielding, throwing and base-running, providing an excellent way to develop hand-eye coordination, balance and muscle strength. Call the school at 703-397-0555 to register.