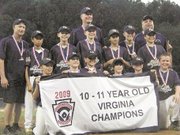 Steve Norwood stood near the front of the pitcher's mound at Fred Crabtree Park in Reston on Tuesday night, trying to find the right words to describe his team's performance this summer. The Chantilly American 10-11-year-old All-Star team had just completed a dominant run through the Virginia state tournament and sealed the title with a 13-2 win over Huguenot.
Much had gone right throughout the six-game affair for Norwood's team, which outscored its opponents 88-13 and earlier had won a District 10 title. Yet with nothing left to do but celebrate, Norwood's players made sure they stayed on the offensive, surprising the coach with an ice-cold shower.
"I was just laughing from a distance," said shortstop David Tammaro, who went 3-for-3 with a double, two RBIs and two runs scored.
Thanks to a stellar pitching performance from Jared DiCesare, who tossed four innings of two-run ball without walking a batter, Chantilly American was able to keep Huguenot's offense at bay. In fact, three of DiCesare's four strikeouts came on called third strikes.
"It feels great to have the whole team with me on this, and I feel great about the whole tournament," DiCesare said.
Jared Enders walked to start the game and Brett Norwood's bunt gave Chantilly American two aboard with nobody out. After Tammaro's RBI, a wild throw from the outfield helped him move to third and later score on DiCesare's groundout.
Two innings later, Chantilly American blew the game open with five more runs. DiCesare hit a two-run homer before right fielder Shane Butler's second hit of the game and three Huguenot errors produced an 8-0 lead for Chantilly American.
"This feels great," said Norwood, still drenched and cold. "I could stay out here all night."
More like this story