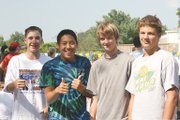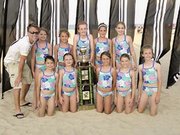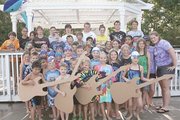 <b>Sharks Rock</b>
The Chase Club Sharks hosted their annual Rock-n-Roll swim meet on Saturday, July 18. Parents and swimmers wore tie-died T-shirts and danced around the pool. Though Chase Club suffered a 255-188 loss to Fort Myer, 41 personal-best times were achieved. A.J. Kim, Eric Tucker, Donald Tucker, Doug Timms and Ellyn Baumgardner all won three events, while the Sharks earned sweeps in the 9-10-year-old boys' freestyle, 9-10 boys' backstroke and 13-14 boys' butterfly. Chase Club will host this year's Colonial Swim League Blue Division meet on Saturday, July 25, where it will raffle off a 2009 Blues Traveler T-shirt signed by the band and a custom-engraved harmonica signed by the group's lead singer, John Popper.
<b>Some Real Wizardry</b>
The Kings Ridge Water Wizards completed their 2009 Northern Virginia Swim League season by grabbing the team's first division title since 1998, which was sealed with a 252-149 win over Lincolnia Park on Saturday, July 18. With the victory, Kings Ridge ran its record to 5-0 this summer. During the victory, Amanda Kendall set a 15-18-year-old girls' butterfly record with her time of 28:54 seconds. The Water Wizards were led to victory this year by a strong and dedicated group of coaches that included Cody Kendall, Hailey Hewitt and Tom Koucheravy.
<b>Beach Blast</b>
Playing barefoot on sand, the Southwestern Youth Association Storm, a U-10 girls' soccer team, remained unaffected. The Storm, creatively dubbed Category 5, captured the 2009 Beach 5 Sand Soccer Tournament, on July 27 in Ocean City, Md. Sponsored by Keller Williams Fairfax Gateway Realtor Group, the Storm went 4-0-0 throughout the tournament and outscored its opponents, 18-1. In the first two rounds, the Storm notched wins over the ASA Royalty and the BMYSA Stingrays by a total score of 10-0. In the championship game following a semifinal win over the CSA Speed, the Storm earned a 5-1 win over the HMMS United Team to win the tournament for the second straight year.
<b>Softball Tryouts</b>
The Virginia Patriots, a fastpitch softball team made up of high school-age girls, will conduct tryouts for its 2009-10 team on Aug. 15-16 at Falls Church High School. Both tryouts will be from 2-4 p.m. Prior to attending, call or e-mail coach E.J. Thomas so that an information packet can be prepared. Contact Thomas at ejt1609@aol.com or 703-255-2613.