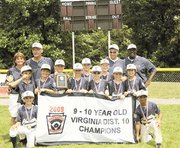 Given the chance to alter how his pitchers pitched, Sean Matthews took full advantage. During a 13-2 loss to the Southwestern Youth Association East 11-12-year-old All-Star team on Saturday, July 11, Matthews watched -- and called -- pitches that grazed the outside corner of the plate, only to see them shot back up the middle for hits.
So given the seven-day break between that game and this past weekend's District 10 championship, Matthews went to work coaching his pitchers on how to better command the inside portion of the strike zone.
And although Saturday's result might not show it (Chantilly won, 14-12, but permitted 14 hits), the second game of the double-elimination final, which Chantilly American won, 8-6, served as evidence that the team's hard work paid off.
Starting pitcher Eason Recto worked inside and allowed three runs on three hits in four innings, while reliever Aaron Osborne, after taking a hard-hit liner off the wrist on Saturday, allowed only three runs on two hits.
"We never really did a lot of inside pitching, and I just said we have to move the ball inside and out," Matthews said.
Matthews' team now advances to this weekend's Majors state tournament at the Lincoln Lewis Vanoy fields off of Braddock Road in Fairfax. There, Chantilly American kicks off pool play with a 7 p.m. game against Elkton on Friday, followed by a 4 p.m. date Saturday with Cave Spring American and a 1 p.m. game Sunday with Upper Loudoun American.
If Chantilly American finishes first or second in its four-team pool, it will advance to the championship round on Monday and Tuesday.
After scoring three times in the first inning Sunday, Chantilly American led by one run in the bottom of the fourth inning when Recto walked to the plate. With a full count, though, he poked an low-and-outside fastball to right center field for a three-run homer, pushing the score to 7-3.
"I was just trying to make contact with it and get it a hit," Recto said. "I knew it was going [over the fence] after I hit it."
<b>IN THE 9-10-YEAR-OLD</b> District 10 tournament, Chantilly American totaled 17 hits en route to a 14-4 win over SYA East on Saturday, July 11. Chantilly American traveled to Luray, Va. for the state tournament but didn't make it out of pool play.
Throughout the five-game district tournament slate, coach Cheryl Caslavka's team scored an average of 11 runs per game. It's a statistic that, as Caslavka said herself, doesn't exactly pop out when looking at her team's undersized players.
"We are a group of 'minis," she said. "We have lots of little guys, but they played huge."