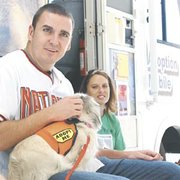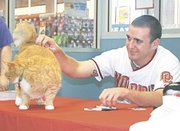 A variety of wide-eyed and furry fans greeted Washington National's pitcher John Lannan at the PETCO on Richmond Highway last Saturday, where Lannan joined the Washington Humane Society to sign autographs and promote responsible pet adoption.
Lannan's agent Todd Wiseman noted the event is part of the effort to get the major-league pitcher involved with the community. Lannan spent two hours signing autographs, doling advice for young baseball players, and scratching ears.
Lannan admits he didn't have much exposure to animals as a child aside from the occasional low-maintenance gerbil.
But when his grandmother rescued their first dog, Lannan was hooked. The pitcher bought a French bulldog-beagle mix named Bailey last October. However, the traveling required with a Major League baseball team makes it difficult for him to give Bailey constant care, so he relies on the support of his family to lend a hand.
"It's a lot of work, " said Lannan regarding dog ownership, "it's a lot of responsibility."
This responsibility is fundamental to the Humane Society's message. Julie Conway, chief development officer for the Society, acknowledges Lannan's support of their organization enhances his ability to act as a role model for young fans.
"If kids see pro-athletes loving animals, they're going to love animals, too," said Conway.
The Humane Society had its "Adoption Mobile" parked outside the PETCO during Lannan's visit to encourage the adoption of young dogs. And Lannan was just as enthusiastic about engaging the animals as he was fans, who often brought along their own pets. While the 24-year-old does admit he is not crazy about cats, he nevertheless welcomed a multitude of Nats enthusiasts — young, old, with fur or scales — to join him.
Lannan acknowledged one of the best parts of being a pet-owner is their ability to bring a family together, as happened with his own dog Bailey.
"You don't just get a pet temporarily," said Conway. "They are a part of your family and they're part of your family for life."