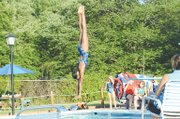 <b>They Win Again</b>
With a 51-21 win over Rutherford on Tuesday, July 14, the Fairfax Station dive team improved to 4-0 this season. First-place divers for Fairfax Station include: Hayden Aspesi, Emily Weidner, Teal Schuppin, Andrew Pascual, Jasmine Narel and Nicholas Alfieris. Alfieris and Rebecca Anderson have been recognized as the team's Divers of the Week for their increase commitment to practice and dedication to the team.
<b>More Records Fall</b>
During a meet with South Riding on Saturday, July 11, Michael Herrmann of the Barrington Blue Fins broke the 15-18-year-old boys' 50-yard backstroke record of 26.50 seconds, which was set last summer by his brother, Ricky Herrmann. To make history, Michael Herrmann finished with a time of 26.04. Also against South Riding, fellow Blue Fin Brandon Fabian broke his second record in as many weeks by finishing the 9-10 boys' 100 individual medley with a time of 1:13.61, eclipsing the 27-year-old mark of 1:15.10.
<b>Dive Right In</b>
On Sunday, July 19, 354 divers participated in the Northern Virginia Swim League's Cracker Jack Invitational Championship at Truro Swimming Pool in Annandale. The divers represented 31 of the NVSL Dive League's 47 teams throughout Fairfax and Arlington counties. More than 8,000 participants have since showcased their skills at the Cracker Jack, which was established in 1987 to provide a skill-appropriate championship for beginning divers. This year, Shannon Campbell of Crosspointe (Fairfax Station) emerged victorious in the 7-year-old girls' division with a score of 64.00, as did three of her teammates, Caleb Royce (9-year-old boys', 57.90), Ryan Mendes (10-year-old boys', 58.85) and Alec Jones (12-year-old boys', 86.10). Colton Thorne, 6, of Sideburn Run (Fairfax) took first-place honors with his score of 49.25.
<b>Beach Blast</b>
Playing barefoot on sand, the Southwestern Youth Association Storm, a U-10 girls' soccer team, remained unaffected. The Storm, creatively dubbed Category 5, captured the 2009 Beach 5 Sand Soccer Tournament, on July 27 in Ocean City, Md. Sponsored by Keller Williams Fairfax Gateway Realtor Group, the Storm went 4-0-0 throughout the tournament and outscored its opponents, 18-1. In the first two rounds, the Storm notched wins over the ASA Royalty and the BMYSA Stingrays by a total score of 10-0. In the championship game following a semifinal win over the CSA Speed, the Storm earned a 5-1 win over the HMMS United Team to win the tournament for the second straight year.
<b>Softball Tryouts</b>
The Virginia Patriots, a fastpitch softball team made up of high school-age girls, will conduct tryouts for its 2009-10 team on Aug. 15-16 at Falls Church High School. Both tryouts will be from 2-4 p.m. Prior to attending, call or e-mail coach E.J. Thomas so that an information packet can be prepared. Contact Thomas at ejt1609@aol.com or 703-255-2613.
<b>Fall Registration</b>
South County Little League is conducting registration for its fall 2009 season. Those interested can register online at www.scllva.org. Practices begin in mid-August, while the regular season lasts throughout September and October.