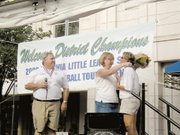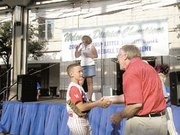 Soaked with sweat, Jeff Thomas sat in the back right corner of a hospitality tent at Fred Crabtree District Park on Friday afternoon, July 17. It was fairly warm and flies, mosquitoes and other assorted bugs continually pestered the president of Reston Little League.
Regardless of heat, humidity or insects, nothing could derail Thomas' happiness this day. Finally, he thought, baseball was underway. All of the planning that had consumed the past six months of his life had passed. Nothing was left to do but watch.
And that's what Thomas did.
"Putting together a state tournament is a big undertaking, not just for the host organization, but for all the leagues that come here," said Thomas, who also works as an acquisitions analyst for the U.S. Department of Transportation.
Fourteen teams comprised of between 12 and 14 players descended on Reston over the weekend and early this week for the 10-11-year-old Virginia Little League state tournament. Although Reston did not have an entrant in the tournament, Thomas and others had just as much fun showcasing the organization as a whole.
"Having an event like this right here in our community is a great way to promote youth baseball, and we're very proud of our facilities here," Thomas said. "The All-Star adventure in Little League is a tremendous experience for the kids and that's what it's all about."
The whirlwind of planning started in early January with a phone call from District 4 administrator Ellen Witherow, who initially asked Thomas if Reston, which had the proper facilities and had hosted a 9-10-year-old tournament more than a decade ago, would be able to host this year's version.
Thomas jumped at the opportunity. This was do-able, he thought. So the next day, Thomas went to work lining up sponsors, talking to other teams from around Division 4 and organizing a contingent of more than 100 parent volunteers.
Joanne Gryski, with three children playing for Reston, agreed to help. Her sons, Marty, 11; Ben, 10; and Nick, 8, have enjoyed their time with the organization, and she saw this as the perfect opportunity to give something back.
Of course, Gryski didn't expect to coordinate an entire hospitality tent, the picnic for the Opening Ceremonies on Thursday, July 17 or oversee an entire group of volunteers, either.
"The biggest thing for me was actually realizing how much work goes into this," Gryski said. "I think the teams have all been very hospitable, so it just makes it a very nice environment."
Without a Reston team in the tournament, Chantilly American and Vienna American have carried the load. Chantilly American posted a 3-0 record during pool play and topped York County, 15-3, on Monday night.
Vienna American went 2-0 in pool play and scored a total of 36 runs during those games. On Monday, Vienna American played McIntire and won, 16-0, which produced a semifinal matchup Tuesday night against each other.
"They took care of things and did a fantastic job," said Chantilly American manager Steve Norwood of the tournament experience. "A lot of these people go out and spend their weekends volunteering. It's a pretty amazing thing."
Thomas said that another fulfilling part of this whole experience was watching Little Leaguers from across the state interact with each other at the Opening Ceremonies, which took place at Reston Town Center. Many traded district pins -- a Little League tradition -- while others were content to discuss the entire state tournament experience.
Though the tournament's champion was crowned Tuesday night and too late for this edition, Thomas hoped that every player involved would leave town with the same feelings.
"We want them to go home with great memories, great pictures and a great smile on their face and to go back and tell their buddies that they had a great time at the state tournament," Thomas said. "Maybe one in 50,000 goes on and gets paid to play baseball, but if 20 years from now we have some Little League coaches out there … that's just great."