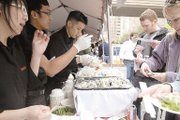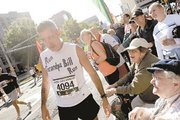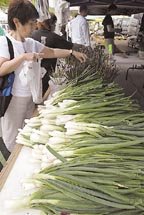 <cal1>AUGUST
<cal2>National Night Out. An annual event observed in all 50 states on Tuesday, Aug. 4. Arlington County Police sponsors the event and encourages residents to turn on their porch lights and hold cookouts, ice-cream socials, flashlight walks and other activities that provide opportunities to get to know your neighbors. Call 703-228-4123.
Arlington County Fair. The annual Arlington County Fair takes place from Aug. 20-23 at the Thomas Jefferson Community Center, 3501 S. 2nd St. The fair features exhibits, family entertainment, rides for children, food and entertainment. Shuttle buses leave from the designated Park and Ride areas regularly. For transportation and accessibility information, visit the Arlington County Fair Web site at www.arlingtoncountyfair.org or call 703-920-4556.
<cal1>ONGOING SUMMER AND FALL EVENTS
<cal2>Free concerts every Thursday (Wilson Blvd. and N. Oak Street) in Rosslyn, at 11:45 a.m.-1:30 p.m. from May 14 through Sept. 24. Call 703-522-6628 or visit www.rosslynva.org.
US Army Band Free Concerts. Held 7:30 p.m. at Kenmore Auditorium. Visit usarmyband.com for show dates.
Marine Corps and Iwo Jima Memorial Sunset Parades. Every Tuesday evening at the U.S. Marine Corps Memorial, the U.S. Marine Drum and Bugle Corps and the Silent Drill Team are featured. Tuesday Sunset Parades June 2 –Aug. 11 are at 7 p.m. Parking is available at Arlington Cemetery. Call 202-433-6060.
<cal1>ONGOING EVENTS
<cal2> Volunteer Work Day at Potomac Overlook Regional Park, 2845 N. Marcey Road, from 10 a.m.-noon, on the first Saturday of each month. Help with the gardens or trails. Call 703-528-5406.
The Horticulture Hotline is available from 9 a.m.-noon, Monday-Friday, year-round at 703-228-6414. Home gardeners are also welcome to visit the Virginia Cooperative Extension Office at the Fairlington Community Center, 3308 S. Stafford St., during these hours.
Exhibition of works by local painters. Showings sponsored by the Arlington Artists Alliance, a nonprofit organization in support of art and artists in Arlington.
www.arlingtonartistsalliance.org. See Web site for location and dates.
"I Love the '80s Film Festival." May 1-Sept. 4. Free move screenings at dusk at Gateway Park. 703-522-6628.
The Big Red Caboose at Bluemont is open to visitors during the summer through Sept. 10 on Saturdays from 10 a.m.-6 p.m. and Sundays from 1 p.m. -5 p.m. Free for all ages. The caboose is located at 601 N. Manchester St. Call 703-525-0168.
The Ballston Art Market returns to Welburn Square in May, offering original creations for home decor, gifts and personal use, including handmade jewelry, pottery, quilts, wearable art, giftware, watercolors, oil paintings and photography May 9-Oct. 10. The monthly outdoor market operates from 10 a.m.-4 p.m. the second Saturday of every month. Different artists exhibit each month. A select panel juries the artists. Welburn Square is adjacent to the Metro station at 9th and N. Stuart streets near Ballston Common Mall. For directions and further information, call 703-228-0560 or 703-528-3527.
Ballston hosts a weekly Farmers Market in Welburn Square, from 11 a.m.-3 p.m. every Friday from May 30 through Oct. 17. Welburn Square is located between N. Stuart and N. Taylor streets, across from the Ballston Metro Station. Call 703-528-3527 or e-mail ballstonvasquare.org/farmersmarket.
Clarendon Farmer's Market. Fresh produce and miscellaneous items from 19 vendors are available for sale every Wednesday all year from 2-7 p.m. located adjacent to the entrance of the Clarendon Metro Station and every Saturday and Sunday from 8 a.m.-noon at the Courthouse parking lot. Call 703-812-8881.
Rosslyn Farmer's Market. This ongoing market is located at the corner of Oak Street and Wilson Boulevard and is open on Thursdays from 11 a.m.-3 p.m. from May 14 through Sept. 24. Call 703-228-1850.
Columbia Pike Homegrown Farmer's Market. Another convenient farmer's market located at Pike Park on Columbia Pike at S. Walter Reed Drive. Market is open every Sunday from 9 a.m.-1 p.m. Call 703-892-2776.
Flea Market and Community Garage Sale. Run by the Arlington Civitan Club, the market is held the first Saturday of every month from 7 a.m.-1:30 p.m., April-November. The event is held at the I-66 parking garage at the corner of N. 15th and N. Quincy streets. Call 703-534-9268.
Arlington Farmer's Market. Fruits and vegetables, cut flowers, plants, meats, cheeses, milk, eggs, wine, honey, Christmas trees and more from as many as 30 producers. Located at the corner of N. 14th Street and N. Courthouse Road, near Courthouse Metro Station. Held from 8 a.m.-noon every Saturday year-round. Call 703-228-3327.
Toastmasters, a group that strives to help participants end their fear of public speaking, meets on the first, second and third Thursdays of each month 12-1 p.m. at the Nature Conservancy, 4245 N. Fairfax Dr. Call 703-838-0477.
Story Hour at Aladdin's Lamp Children's Bookstore, 2499 N. Harrison St., suite 10, Wednesdays and Saturdays at 11 a.m. A special guest or store staff member will read to children ages 2-6. Call 703-241-8281.
<cal1>SEPTEMBER
<cal2> The 19th Annual Jazz Festival. Sept. 12, 12:30-7 p.m., at Gateway Park. Headliners to include Holly Cole, Spanish Harlem Orchestra, Lafayette Gilchrist , and Frederic Yonnet . Free. Call the Rosslyn Events Line: 703-2-Rosslyn
Speedy Tolliver Fiddler's Fest. Traditional fiddlers will perform in many styles in honor of fiddling legend Roy "Speedy" Tolliver. Sunday, Sept. 20 from 12-4 p.m. at Madison Community Center, 3829 N. Stafford St. Free. Call the Arlington County Office of Heritage Arts at 703-228-1850.
Vintage Crystal. The 3rd Annual Vintage Crystal - A Taste of Wine and Jazz. Sept. 20. Event fee: $20 includes wine sips, food tastes, entertainment and commemorative glass).
Rosslyn Jazz Festival. Great jazz doesn't have to be confined to a dark, smoky bar room. This free event, held every September, features an afternoon of music from a variety of jazz influences. Co-sponsored by the Rosslyn Renaissance, the 19th edition of the Jazz Festival is scheduled for Sept. 12, 12:30-7 p.m. this year at Gateway park. Call events office at 703—2-Rosslyn.
Clarendon Day. A street party held Saturday, Sept. 226 noon-7 p.m., Clarendon Day features the cuisine of local restaurants, the music of local bands, antiques and collectibles markets, and the art of area craft makers and artists. Visit www.clarendon.org.
<cal1>OCTOBER
<cal2>Pioneer Day Festival. A celebration of the nation's heritage featuring live music, dancers, local artisans and food. Located at Gulf Branch Nature Center, 3608 Military Road. 703-228-4400
College Fair. Sponsored by Arlington Public Schools at Ballston Commons Mall on Oct. 11. www.Ballston-common.com
Marine Corps Marathon. The annual marathon sponsored by the Washington Post begins and ends in Arlington at the Iwo Jima Memorial after running its course past Washington's monuments on Sunday, Oct. 25, beginning at 7:55 a.m. for wheelchair and hand cycle participants and 8 a.m. for runners. Call 800-RUN-USMC or visit www.marinemarathon.com.
Trick-or-Treating. Ballston Commons Mall, 4238 Wilson Blvd., will host an annual Halloween Trick-or-Treating event on Oct. 31, 5-7 p.m. Children of all ages are invited to trick-or-treat throughout the mall free of charge in a safe environment. Visit www.ballston-common.com or call 703-243-8088.
Arlington House. Arlington House was the home of Robert E. Lee and his family for 30 years. The house is now a memorial to Lee and is open all year from 9:30 a.m. to 5:30 p.m. The Robert E. Lee Museum and the grounds around the house are also open to the public. On the first Friday in October, the Arlington House opens its doors, giving visitors a chance to see the Arlington House and National Cemetery at night. Call 703-235-1530.
<cal1>NOVEMBER
<cal2> Indoor Picnic at the Ellipse Art Center, 4350 N. Fairfax Drive, Nov. 4. An exhibition of literary, musical and performance pieces starts at 7 p.m. Arrive at 6 p.m. to claim a spot. Bring a picnic and blanket. Call 703-228-7710.
<cal1>DECEMBER
<cal2> Chamber Meeting. The Arlington Chamber of Commerce will host its annual meeting on Friday, Dec. 11. Visit www.arlingtonchamber.org or call 703-525-2400.
Light Up Rosslyn. This annual ceremony, including refreshments and music by the Metropolitan Chorus, will take place at the WJLA Jumbotron, 1100 Wilson Blvd., starting at 5:30 p.m. on Thursday, Dec. 3. Call 703-522-6628 or visit www.rosslynva.org.
<cal1>FEBRUARY
<cal2> Mardi Gras Celebration. The Clarendon Courthouse Mardi Gras begins with a parade at 8 p.m. on Fat Tuesday, Feb. 16, marching up Wilson Boulevard from Danville Street to the Metro station at N. Highland Street.
<cal1>MARCH
<cal2>Shamrock Festival. This annual event is held at RFK stadium and features entertainment, food, activities, and authentic Irish dancers and music. Family discounts are available. Go to www.hiballevents.com. Contact info@hiballevents.com.
Arlington Artists Alliance Art Fest. Weekly hours vary based on events. The week features classes and live demonstrations as well as an art show and sale. At Fort C.F. Smith, 2411 N. 24th St. Call 703-532-4450. www.arlingtonartistalliance.org.
<cal1>APRIL
<cal2> Spanish-Language Book Fair. Arlington Public Schools will hold its annual Spanish-Language Book Fair. Call Arlington Public Schools at 703-228-4210 (ESOL office).
Flea Market and Community Garage Sale. The Arlington Civitan Club hosts a flea market the first Saturday of every month from 5 a.m.-1 p.m. between April and November. The event is at the Arlington County parking garage on N. 15th St. Call 703-228-3314.
<cal1>MAY
<cal2>Arlington Tourism Month. Festivals and tourist attractions will spring up all over the community this month. Call 703-228-5720 or 800-677-6267 for details.
Neighborhood Day in Arlington includes countywide events, including neighborhood fairs and street festivals and concluding with a parade from the Clarendon Metro to N. Wayne Street. Multicultural festival in Courthouse Plaza, 2100 Clarendon Blvd. Call 703-228-3155 TTY: 703-228-4611 for more information.
Walk for the Animals. A pledge walk for people and dogs to benefit the Animal Welfare League of Arlington as part of the Neighborhood Day activities. Call 703-931-9241, ext. 280, or awla.org.
Taste of Arlington in Ballston Common Mall in May. It is held on 4238 Wilson Blvd. Street festival with restaurants, entertainment, crafts, auction and more. Free admission. Visit www.TasteofArlington.com partnering with Neighborhood Day.
CSC Invitational Bike Race held in May in Clarendon. Call 703351-7200 for details. See www.cscinvitational.com.
<cal1>SUMMER
<cal2> Summer Concert Series. Beginning in June at Lubber Run Amphitheater and continuing throughout the summer. Call 703-228-4712 for more information.
Netherlands Carillon Concerts. Beginning in early June and continuing through the summer on Saturdays, enjoy guest artists playing the 50-bell Carillon in free concerts at the Carillon on Route 50 and George Washington Memorial Parkway. Concerts are held in May and December 2-4 p.m. and in June, July, and August 6-8 p.m. Call 703-289-2500. See www.nps.gov/gwmp.
Rock at the Row Summer Concert Series. From June through the beginning of August, local rock, blues, and cover bands play on Thursday nights at Pentagon Row Plaza, located at Army Navy Drive and South Joyce Street. And yes, dancing is encouraged. Shows run from 7-9 p.m. Visit www.pentagonrow.com for more information. Call 703-413-6692
<cal>JULY
<cal2>County Fireworks. The Arlington County Department of Parks and Recreation sponsors an annual fireworks display on July 4 at Barcroft Park, 4100 S. Four-Mile Run Drive, beginning at dusk (approximately 9:15 p.m.). The display lasts about 45 minutes.
Rosslyn Spectrum. Festival celebrates pioneers of cinematic comedy, returns July 2010. See www.slapsticon.org for details on the festival.
Party at the Plaza. Wednesdays through July 29, 1611 N. Kent St., 5:30-8 p.m., free. Dancing, music, refreshments.
More like this story