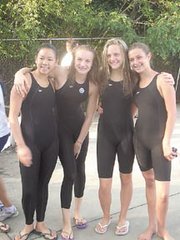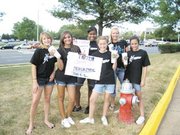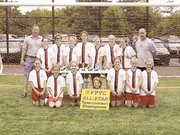 <b>Goodbye Records</b>
It's been a record-breaking summer for the Hayden Village 13-14-year-old girls' medley relay team. At the first meet of the season, the relay team of Morgan Bui (backstroke), Matty Ferguson (breaststroke), Natalie Dillinger (butterfly) and MacKenzie Cripe (freestyle) shattered the team's 200-meter relay record. And on July 12, Villains' relay team broke a Colonial Swim League record at the All-Star Relay Carnival. The previous CSL 200-yard relay record of 2 minutes, 0.70 seconds, set in 2004 by Ashburn Farms, was shattered with a time of 1:57.93. The Villains are coached by Emily Ferguson, a former team member who now swims for Virginia Tech.
<b>Godart Gone</b>
After 26 years and exactly 400 games, Chris Godart has stepped down as the Westfield girls' soccer coach. Godart, with a career record of 232-136-32, has been at Westfield since the school opened during the fall of 2000.
"It's the first point in 26 years that I can say I don't have a team," said Godart, whose team went 4-9 this past spring and lost to Centreville, 3-2, in the first round of the Concorde District tournament.
Despite the sub-.500 season, Godart feels that the future at Westfield is bright, with several talented players working their way through the system.
"There's never a good time [to step down]," he said. "We had a really good freshman class this year, so there's never a time where you can say the future's no good and it's time to leave."
For his career, Godart's teams have won seven district titles and one region crown. His teams have also made four Virginia AAA state final appearances, with the 1990 Lee team capturing the trophy with a 20-0 mark.
Godart has twice been named the Virginia Coach of the Year and was named the National High School Athletic Coaches Association's 2006 National Girls' Soccer Coach of the Year. Godart will be succeeded by former player and current assistant coach Kristi Williams.
<b>SYA Registration</b>
Registration is now open for fall Southwestern Youth Association sports. Sign up now as some sports will be charging late fees or having to put players on a waiting list soon. Registration is available for the following sports: Babe Ruth baseball, softball, baseball and T-ball, as well as soccer, football, field hockey, track and field, cheerleading and lacrosse. Visit the SYA Web site at www.syasports.org for additional information or to register.