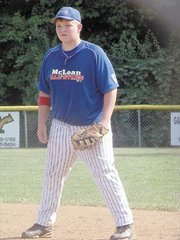 If only baseball were football, Armen Clark might find himself deferring quite a bit during the ceremonial pregame coin toss. Clark has enjoyed his McLean American 11-12-year-old All-Star team's recent stint on the third-base side of things, which generally means that McLean American is the visiting team and bats first.
Batting first, Clark feels, gives McLean American a chance to make a quality first impression, something it certainly did during a state quarterfinal game against Central Chesterfield on Monday afternoon at the Lincoln Lewis Vanoy Fields in Fairfax.
With one out in the first inning, third baseman Jameson Culp reached on a single and first baseman Cam Hester sent a shoulda-been-sponsored-by-Southwest shot over some trees in left field. Just like that, McLean American had a 2-0 lead.
"That's been our mantra," said Clark, whose team went 2-1 in pool play, topping both Warwick (3-1) and Norton (20-1). McLean American lost to West Springfield National, though, and finished as the Pool A runner-up.
The rest of the Central Chesterfield game, however, didn't match Clark's preconceived plan, as McLean American dropped a 9-5 decision. Still, McLean American can savor the District 4 title it won this season, which included come-from-behind wins over Vienna American and Vienna Colonial. The Vienna American win (7-6) came after McLean American faced a 5-2 deficit and rallied. The second victory came against a team that had outscored its opponents, 54-4, in six games prior.
Facing a similar offensive dynamo in Central Chesterfield, McLean American wasn't intimated. In the bottom of the third inning, Culp notched his second single and was driven home by Hester, who finished 2-for-3 with two RBIs and two runs scored. An inning later, catcher Grant Newsome blasted a solo home run to tie the score at 5. In addition to Hester, Culp and Newsome, Caleb Beatty went 3-for-3 with two RBIs.
"We firmly believe that we could've won that game, but we reminded them that they're one of the top eight teams in the whole state of Virginia," Clark said. "We're playing baseball all the way through the end of July … and most kids are hanging out at the pool right now."