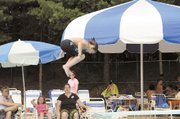 <b>Track Roundup</b>
At the Prince George's Sports and Learning Complex in Landover, Md. on July 9-12 for the USATF Region III Championships, 12 members of Summers&GeorgiaREE track club competed alongside athletes from Georgia, South Carolina and North Carolina. There, Brian Allen finished second in the 800-meter run, while Kevin Johnson was second in the 400. Isaiah Simmons second in the shotput and discus. Decathlete Gustavo Osorio was the Lorton-based club's final top-three finisher, taking third-place honors.
A week prior, 24 of Summers&GeorgiaREE's best competed at the USATF Youth Outdoor National Championships at Eastern Michigan University. Summers&GeorgiaREE won 28 medals, highlighted by the young men's 4x400-meter relay team of Andre Washington, Ra-Mon Mathis, Anthony Swindell and Johnson, which won a national title. As a team, Summers&GeorgiaREE took second. Other top finishers included Allen (800, third), Johnson (400, third), Washington (400 intermediate hurdles, third) and Simmons (shotput, second).
<b>Division Champs</b>
The Fairfax Station dive team defeated Sleepy Hollow Tuesday, July 21 by a score of 53-19, finishing its season with a 5-0 record to secure the Division 6 championship. Top scorers for Fairfax Station were Leigh Alfieris, Caleb Royce, Teal Schuppin, Morgan Feldenkris, MacKenzie Wessling, Nick Alfieris, Rebecca Anderson and Ray Skadden. Coaches named Wyatt Brooks and Alex Hazard as the Divers of the Week because of their dedication and hard work. Brooks went a step beyond by choosing to compete in the Wally Martin 3-Meter Meet while Hazard excelled in learning seven new dives this season.
<b>Tennis Camp</b>
Robinson girls' tennis coach Jeff Jones will host a series of Tactical Tennis camps in Clifton throughout July and August. All camps will run three days: Monday, Tuesday and Thursday. The first camp will be July 27, 28 and 30; the second on Aug. 10, 11 and 13; the third on Aug. 24, 25 and 27. Video analysis will serve as an integral part of each camp. All camps will be at the Weinberg household. For more information, contact Sandi Weinberg at 703-919-6203.
<b>Softball Tryouts</b>
The Virginia Patriots, a fastpitch softball team made up of high school-age girls, will conduct tryouts for its 2009-10 team on Aug. 15-16 at Falls Church High School. Both tryouts will be from 2-4 p.m. Prior to attending, call or e-mail coach E.J. Thomas so an information packet can be prepared. Contact coach Thomas at ejt1609@aol.com or 703-255-2613.
<b>Honoring Lopynski</b>
Robinson Secondary School will host a 5K race called "Run for Ryan" Aug. 1, at 9 a.m. The event was named for Ryan Lopynski, a 2008 Robinson graduate who died on April 26, 2009 during his freshman year at Virginia Tech. It's designed to raise money for a scholarship and to honor Lopynski. Cost of participation is $25 and registration is available on the day of the race.
<b>Rugby Included</b>
As part of the Coventry Commonwealth Games, Virginia Amateur Sports will welcome the Rugby Virginia Youth Rugby Tournament Aug. 1-2 at Franconia Park in Springfield. Frederic Bardot, the executive director of Rugby Virginia, will manage the event. The 2008 two-day tournament saw more than 30 youth teams compete in tag and contact rugby within U-9, U-11, U-13 and U-15 divisions. For more information on Rugby Virginia, visit www.rugbyvirginia.com. The Commonwealth Games have existed for 19 years and take place in Roanoke, with 161,000 athletes having participated throughout the event's history. This year, 10,000 athletes are expected to participate in 61 sports.
<b>Senior Olympics</b>
Senior adults 50 years of age and over are eligible to enter the 2009 Northern Virginia Senior Olympics on Sept. 12-23. Participants must also live in one of the sponsoring jurisdictions. Registration information is available at local senior centers, community centers, senior residences or by calling 703-228-4721. Details can be downloaded online at www.novaseniorolympics.com. Registration deadline is Aug. 28. More than 25 indoor and outdoor events are offered and seniors may compete in more than one sport.
Each event is divided into age categories. Registration fee is $10, which includes one event. Additional events are $1. Additional fees are charged for golf and bowling. Winners will be awarded gold, silver and bronze medals after each event. New events in 2009 are Wii bowling and mini javelin throw. Other events are track and field, swimming, diving, tennis, golf, table tennis, miniature golf, bowling, pickleball, racquetball, scrabble, ice skating, board games, card games, shuffleboard, men and women's basketball, team line dancing, yo-yo tricks, bait casting, eight ball pool, Frisbee throw, softball hit and throw and more.
<b>Softball Tryouts</b>
The NoVa Blaze U-14 and U-16 travel fastpitch softball teams will host tryouts on Aug. 15-16 at Larry Graves Park in Falls Church from 11 a.m.-1 p.m. For more information, visit the organization's Web site at www.novablaze.org.