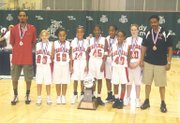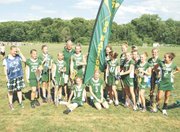 <b>AAU basketball</b>
The Cardinal 10U Girls AAU Basketball Team placed 4th at the recent 10u AAU Div I National Championships held at the Wide World of Sports Complex in Orlando, Florida, July 14-20. The Cardinal girls are led by head coach Carroll Payton and assistant coaches Andre Speight and Megan Chesley. According to Payton, the Cardinal players were extremely undersized but they made up for it with speed and a trapping full court defense. The tallest Cardinal player was 5-foot-6, while eventual National Champion, SE Tennessee Pride, had two players 6-feet or taller.
"I'm extremely proud of these players and what they accomplished, particularly because this is their first year playing together and most had never played at the National level before," said Payton.
He expects them to only get better in the future. The Cardinal players who attended were Chanece Bigelow, Tierra Cochraham, Jada Graves, Meagan Hendrick, Courtnii Henry, Erin Irving, Paige Russell, Nia Speight, and Nia Washington.
<b>Fort Hunt Lax</b>
Recently the Fort Hunt Nation, a collection of rising seventh and eighth grade girls' lacrosse players, made it all the way to the Club National Championships final. Fort Hunt defeated two clubs from Baltimore and a club from Severna Park, Md., areas known to have notoriously strong programs, en route to the finals. They went 3-0-1 in pool play. The team lost in the finals, 7-4, to the M&D Club. Fort Hunt Nation led 4-1 at halftime, though. For the tournament, Fort Hunt Nation outscored its opposition, 61-31.