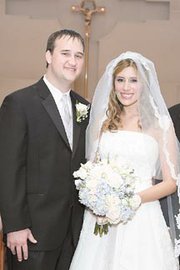 Joseph and Susan Stein of Clifton are pleased to announce the marriage of their daughter, Jennifer Lauren, to Dr. Jared Christopher Storck, son of Dennis and Christine Storck of Panama City Beach, Fla. The couple was married on June 27, 2008 in Reston.
Jennifer and Jared are both graduates of Centreville High School, Class of 1997 and Virginia Tech, Class of 2001.
The couple resides in Cleveland, Ohio where Jennifer works as a mechanical engineer at a NASA contractor and Jared is a physician at the Cleveland Clinic, entering the fourth year of his surgical residency program.