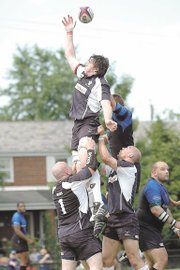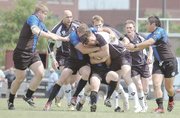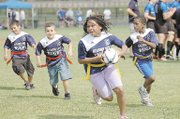 It's a time honored sporting tradition within the European roots of rugby: After two teams spend several hours walloping each other football-style without pads, they share a pint of beer at a local watering hole where singing and drinking tend to break down any remaining ill will from the day's events.
So in line with that thinking, Dundee Select XV coach Shannon Wilson of Scotland, in town for the second annual Mayor's Cup Challenge last weekend, had this message for his friendly hosts in the Alexandria area.
"Put this one out for the local ladies," said Wilson. "If you see some [good looking guys] in kilts running around, let them know the Dundee Rugby Team's here."
The Lord Provost of Dundee's Select XV rugby team ended their week-long visit to Alexandria with the Mayor's Cup Challenge match on Saturday, May 30, at George Washington Middle School in front of a crowd of about 250 people. They proved to be much more than just "good looking guys in kilts," winning the contest, 21-7, against the Mayor of Alexandria's Select XV. Both teams had been chosen from the best players of the many local clubs in Alexandria and Dundee, Scotland, making the match one of the highest quality games in the Washington, D.C. area.
"We knew it was gonna be tough," said Wilson. "It was our defense in the second half that won us the game."
Alexandria and Dundee have been sister cities since 1974 as a way of improving international ties. The first Mayor's Cup match was held in August 2008 in Dundee, commissioned by Alexandria Mayor Bill Euille. According to Jim Canny, flanker from the Alexandria team and Potomac Athletic Club, the event was a "learning experience," with the favored Dundee contingent winning in a landslide, 76-0.
<b>FOR THIS YEAR'S</b> event, the Dundee team arrived on Monday, May 25, and played their first match with the Alexandria Select XV last Wednesday, winning 28-7. Besides the games, the players visited Washington and met Euille.
"The mayor came across as very passionate about the city [and its relation with Dundee]," said Wilson "It's a very nice city. It's got a nice, quiet feel to it."
The 10-hour event also included four games besides the main event, a youth rugby clinic, VIP luncheon, and an after match social. The clinic was attended by about 30 youngsters. Non-contact rugby is offered at Cora Kelly and Mount Vernon Elementary Schools, introducing many students to the game and to Saturday's event.
Kelly Cheeks, mother of 11-year old participant, Juwan Burns, said they chose rugby simply because it was different. "My kids are football and basketball kids. And two of them are into soccer and I wanted something different for my eleven year old."
As for safety concerns, she added that since the game is non-contact at this level, it's perfect for kids to get started. Other parents also supported the idea that despite popular assumptions, the rules are there to make sure it's a clean, fair game.
One youth clinic participant, Connor Collett, 14, said that the clinic was really helpful, especially before the summer season starts. He plays for the Fort Hunt Rugby Club in Fairfax County and hopes his coach can start a rugby team at West Potomac High School eventually.
"It's one of the only games I am really passionate about," he said.
But despite a large crowd, the event was mostly limited to people already interested in the game. "I would like to see more rugby programs and clubs in the area," said Cheeks. "If it wasn't for the flyer coming home from school, I wouldn't have known about it."