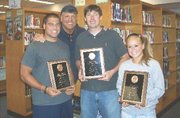 <b>Rams Shocked in Final</b>
Robinson girls' lacrosse coach Alison Neun approached each one of her players following this past Sunday's stunning 13-4 loss to Chantilly in the Virginia AAA state title game. Though Neun was aware that words wouldn't make the pain subside, she reassured her team that it wouldn't be judged on one day's performance.
"I told these girls, you really don't measure your career by trophies, because if you did only, these two teams would be happy with what they've done," Neun said. "And these girls from the start had so much heart."
The state final unfolded completely opposite of how anyone wearing blue and gold would've expected -- or wanted -- it to. Chantilly raced out to a seven-goal lead before Robinson got on the board, which happened after a Courtney Coleman goal with 12 minutes, 27 seconds left in the first half.
But the Chargers went on another five-goal run and had a 12-1 lead with 9 minutes to play. Robinson (17-4) scored three of the game's final four goals, making one last push behind scores from Coleman, Tory Barron and Katie McHugh.
"They could've given up when this team went ahead on them, but instead of giving up, they just kept on fighting," Neun said. "I'm really proud of them for doing that."
Of course if Neun was looking to measure her team's season by trophies, those two commemorating the Rams' Concorde District and Northern Region title game victories would surely suffice.
<b>South County Hires Wrestling Coach</b>
After helping to resurrect a Gar-Field wrestling program that for the past seven years has posted a dual-meet record of 149-56 and finished as the Northwest Region's runner-up three times, Sean Anderson is moving north, albeit not by much.
Anderson spent the past seven seasons as an assistant coach at Gar-Field and on Thursday, June 4, was hired to succeed Andy Jimmo as the head coach of South County's wrestling program. Jimmo helped the Stallions garner the program's first-ever Patriot District title this past season.
"With a new coach, there are always going to be changes, but I hope that they're not too drastic," said Anderson, who will continue to serve as a social studies teacher at Gar-Field. "At Gar-Field, when I first came on, we were able to elevate that program from being very average to a top-10-in-the-state team consistently for about five or six years in a row.
"I think there's potential at South County to make that a top-10-in-the-state team on a regular basis."
During Jimmo's tenure, South County's wrestlers earned a Northern Region-wide reputation for enduring some rather innovative and excruciating training techniques. Carrying sandbags and swinging sledgehammers were familiar sights around Lorton.
While Anderson didn't commit to have his entire off-season program based around flipping monster truck tires, he didn't rule it out either, especially if the wrestlers are willing to work.
"We didn't quite do it like that at Gar-Field, but I know our football coach was doing things like that," Anderson said. "If the kids are willing to work hard, whatever you give them to do. … It's going to be great stuff."
<b>It's a Rugby Day in Fairfax County</b>
The Fairfax County Board of Supervisors declared Saturday, June 6 to be Rugby Day in the county. Supervisor Pat Herrity (R-Springfield) sponsored the proclamation. The event also coincided with the first-ever crowning for a Virginia state rugby champion with three title games, and though they were supposed to take place at South County Secondary School in Lorton, rain forced a move to the turf field at T.C. Williams.
"I played rugby when I was in high school and I am pleased to see that the sport has grown so much that we now have an official high school state championship," Herrity said in a statement. "Any time we can expand access to athletic programs, it's a good thing." On Saturday, both the Western Loudoun boys' and girls' teams swept the U-19 Division I games, while the T.C. Williams boys' team won the Division II game.
<b>Honored at NVCA</b>
The Northern Virginia Christian Academy (NVCA) boys' basketball team went 20-5 this past season and garnered several awards from the National Christian Schools Athletic Association (NCSAA). Head Coach Jerry Cuffee was named the NCSAA's National Coach of the Year, as he was among 54 coaches nominated for this prestigious award. Junior forward Sam Rattray, who averaged 12.4 points and 7.7 rebounds per game, made the Small Schools (Division 3) All-American Team. He was a first team selection. Senior point guard Bobak Sharifi and Rattray were both selected to the North East Super-Regional Team. Sharifi averaged 9 points, 3.1 assists, and 3.5 steals per contest.
<b>Soccer Camp</b>
Paul VI High School will host a girls' soccer camp July 6-10 from 9 a.m.-3p.m, with a 10:1 camper-to-staff ratio. To learn more, call the Paul VI athletic department at 703-352-0927, ext. 503.
<b>Lacrosse Signups</b>
NoVa West Lacrosse is conducting registrations for its summer camps, clinics and indoor league play. Camps and clinics will take place in June and July. NoVa West, as the exclusive provider for lacrosse in the new Purcellville Sports Pavilion indoor facility, will be hosting summer, fall and winter indoor leagues for U-13, U-15 and high school-aged boys. For more information or to register, visit www.NoVaWestLAX.com.
<b>Soccer Tryouts</b>
The Apex, a U-14 girls' travel soccer team with Burke AC, is looking for another striker born on or after Aug. 1, 1995 for the fall 2009 season. The team is coached by Larry Rice. Apex is a five-year-old, family-oriented team with remarkable chemistry, a great goalie and rock-solid defense. For more information on the team, visit www.burkeathleticclub.org/travelteampages/apex. For tryout times, call coach Rice at 703-869-1419.