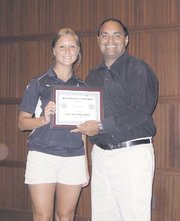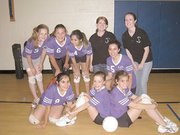 <b>NVYLL Champs</b>
The battle for the boys' U-15 lacrosse Northwest Blue division began with eight teams on Saturday, June 6, but in the end it was the Southwestern Youth Association Warriors who emerged victorious. Teams from the Northern Virginia Youth Lacrosse League participated in the single-elimination tournament at Wakefield High School in Arlington. After scoring a 4-3 win over a CYA team, the Warriors faced off with a lacrosse squad from Vienna. The Warriors answered a 1-0 deficit with five straight goals to grab a 5-1 lead at the half. In the second half, the Warriors scored three goals in the third quarter and two more in the fourth to seal the 10-2 win.
<b>House League Champs</b>
The Southwestern Youth Association's "Team Purple," coached by Eileen and Erin Rafferty, won the seventh- and eighth-grade House League Championship on May 20 in a tournament held at Liberty Middle School. The team won the championship match in three games after several rounds of competitive play throughout the tournament. The team finished in first place during the regular season with a record of 25-10.
<b>Westfield Girls' Hoops Camp</b>
The Westfield Athletic Booster Club will hold two sessions of girls' basketball camps during June and July, with the first session running from June 22-26 (Elite Camp, ages 10-15) and July 6-10 (ages 8-15). Both camps will run from 8:30 a.m. until 2:30 p.m. Cost is $140. The staff will consist of head coach Pat Deegan and assistant coach Alice Andersen, as well as current college and high school players. For more information or for applications, contact coach Deegan at Patrick.deegan@fcps.edu or 703-488-6363 (Ext. 7201).
<b>Centreville Girls' Hoops Camp</b>
The Centreville High School Athletic Boosters will sponsor the Third-Annual Girls' Basketball Specialty Camp from June 22-25. The times of the camp will be from 5 until 8 p.m., and the four-day camp is open to rising seventh-grade girls through rising 12th-grade girls. The cost is $100. Registration forms may be downloaded from the Centreville High School Web site at http://www.fcps.edu/CentrevilleHS/cvhs_old/activity/index.html.
<b>Centreville Basketball Camp</b>
The Centreville Booster Club is sponsoring a boys' basketball camp for rising third- through 10th-grade boys. The camp will take place at Centreville High School from June 22-26, and the camp's cost is $135 for the week. Camp will run from 8:30 a.m. until 2:30 p.m. Contact coach Drew Murphy at 703-802-5476 or by email at andrew.murphy@fcps.edu for more details, or got to www.fcps.edu/CentrevilleHS/boys_basketball_camp.html to download an application.
<b>Westfield Basketball Camp</b>
The Westfield boys' basketball program will hold a series of four camps throughout the end of June and all of July. The first four-day session runs from June 29 through July 3; the second runs from July 13-17; the third from July 20-24; the fourth from July 27-31. For more information, contact Doug Ewell at 703-488-6406 or via email at douglas.ewell@fcps.edu.