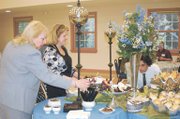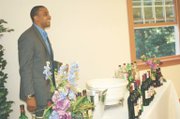 Poppies are popping and rhododendrons are bursting with color. It is springtime at Collingwood, so grab a blanket and picnic lunch and enjoy a couple of hours by the Potomac River. A free concert with the Mount Vernon Community Band is scheduled for Sunday, Aug. 16; other concerts and art exhibits are being planned as well.
Stop in and visit the Library and Museum and get a taste of vintage Americana browsing through their collection of historical books and viewing the collection of American memorabilia.
While there, ask for a tour of the new conference center; it holds 240 classroom style and 200 at banquet tables and comes equipped with wireless internet. The new center is handicapped accessible and has a lower level for break-out sessions or dual meetings.
More than 26 weddings have already been booked for 2009, with more on hold for the remainder of the year and into 2010.
The Mount Vernon-Lee Chamber has plans for "The Taste of Mount Vernon" for Thursday, Sept. 17, from 5-8 p.m. Details are still being finalized, but the event will be comparable to "The Taste of River Farm" that used to be held at River Farm. Local restaurants and caterers will provide samples of their cuisine while local wine stores will provide tastings of their wine. Check for updated information on the Collingwood Web site.
In the meantime, other organizations have made use of the facility. In April, the West Potomac Crew Team held a Casino Night in the new conference center. That same weekend, the Kentucky Society hosted their annual Kentucky Pre-Derby Party — more than a thousand people came to celebrate at a gala affair held on the front lawn.
Mica Evans Hider, National Association of REALTORS, said, "For years, Kentuckians from the Washington, D.C. area have gathered to celebrate the Kentucky Derby. Collingwood's stately grounds on the banks of the Potomac have provided us the perfect venue to celebrate one of Kentucky's finest traditions."
Another annual event at Collingwood, Britain on the Green, was held the next day and Tom Burke, 2009 BOG co-coordinator, said, "It's a great outdoor setting for our event and the facilities have gotten better and better over the five years we have been there."
In addition to the Mount Vernon-Lee Chamber of Commerce, Collingwood has hosted other local business organizations. The Springfield Chamber of Commerce held a reception in March for their members. Catered by Payne's Catering, guests had the additional treat of listening to music provide by Sam Franklin from Party Mix DJ's.
Franklin was back again to play music for the Alexandria Chamber of Commerce's reception in April. Providing the food was Barbara McClelland of Complements Catering and Kevin Bates from Rita's Ice. Lamar Brown from Carafe Winemakers served up some of their wine bottled on the premises in Old Town, Alexandria.