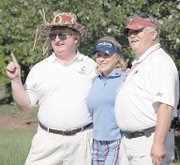 Tournament golf and fund raising have gone together since the early days of American golf. Local golfers enjoyed a great example on June 22 at Westfields Golf Club in Clifton, as the Fairfax-based Ronald McDonald House Charities of Greater Washington hosted its annual pro-am to raise money for its programs, including the temporary housing facility for families of ill children at Inova Fairfax Hospital.
Tournament organizers attracted an eclectic mix of touring pros, local club professionals and enthusiastic amateurs for the 25th-annual event. Kathy Whitworth, who won 88 LPGA Tour events and became the first woman to earn $1 million on the tour, joined the field, as did former LPGA Tour stars Jan Stephenson and Nancy Scranton. Champions Tour players Howard Twitty and Mike McCullough and reigning long drive champion Jaime Sadlowski also played.
Two Fairfax residents headlined the amateur contingent, although the gallery failed to recognize the men. They played without their usual frilly dresses and pig snout noses. Michael Torbert joined fellow Redskins' Hogette Michael McCartney in their annual appearance in the tournament.
"We really enjoy playing for such a deserving charity," said McCartney while digging into a plateful of barbecued pork ribs afterward.
McCartney, a U.S. Postal Service employee, and Torbert, a nuclear engineer at the Department of Energy, join the other Hogettes in over 100 charitable appearances every year, and both have handicaps in the teens.
Fairfax City's Gary Robinson enjoyed playing as well. The retired Department of the Army employee entered at the behest of his wife Joyce.
"She's a volunteer at RMHC," he said. "But more importantly, it's for a good cause."
Joyce Robinson serves on the RMHC golf committee. She explained that $70 will pay for one day's stay for a family at the Ronald McDonald House on Gallows Road.
"A donation of a week's amount, $490, would be so important to a family in need."
This year's field was smaller than normal, and tournament co-chair Bob Rosen cited the poor economy as the reason.
"Last year, we netted $110,000, but this time we expect only half of that," he said.
Scranton, a three-time LPGA Tour winner, led four Washington Post employees to the tournament title. The event's format was a "Shamble," where each team member played his own ball from the point of the team's best drive. The best two net scores counted.
Bryan Zell, a PGA assistant pro at Westfields, led the second-place team. Zell played on George Mason University's golf team in the mid-1990s and is a well-respected teaching professional with a growing following of area students.